UnNews:Boston wins Stanley Cup
Jump to navigation
Jump to search
---
We distort, you deride
✪
UnNews
✪
Tuesday, June 6, 2023, 19:00:

59

(UTC)
---
| | | |
| --- | --- | --- |
| Boston wins Stanley Cup | | |
17 June 2011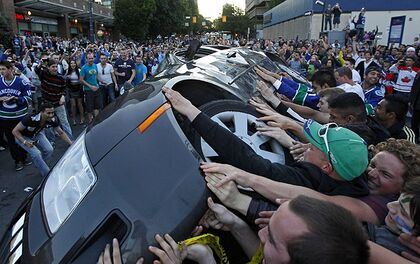 VANCOUVER, Canada -- In an impressive display of strength and solidarity, Vancouverites united yesterday night and showed the world their amazing ability to come together as a community and work toward a common goal; promoting their city on the international scene as a tourism destination of choice for people looking for a friendly and warm welcome. They accomplished that feat with flying colors by flipping cars over, smashing windows and stabbing a Boston Bruins' fan (see picture below).
The civil unrest was ignited when their hockey team failed to put a single frozen horse's dong in some net during a game deciding which team was going to have the opportunity to carve its name on a piece of metal.
In the middle of the turmoil, an Associated Press journalist managed to obtain the following comments from an out of breath, stop sign-wielding Canucker:
"WHAT DO YOU MEAN 'WHY ARE WE DOING THIS?' WE ARE RIOTING BECAUSE THE CANUCKS LOST AND WE ARE SO COOL AND WE HAVE BIG MUSCLES! SO LET'S TEAR THE PLACE DOWN! ANGRY–ANGRY–ANGRY!!! BUT HAVE A NICE DAY, EH?"
According to Madeleine Wright, head of the Behavioral Science Institute, this type of demeanour is caused by a mob effect. "In instances where the population resorts to civil disobedience for political reasons, like demanding that their oppressive regime be removed or protesting the ever-increasing gap between the rich and the poor, the phenomenon is called Mass Revolt Effect (MRE)," she stated. "In cases where the social unrest is caused by an unsatisfactory performance by a sports' organization, our crew of distinguished psychiatrists has coined a specific nomenclature: Assholeism. In the present case, she continued, the Assholeism factor is severe."
So severe that the Vancouver Police Department had to take part in the festivities and do what they do best: deliver some serious punishment to everything that moves. Captain Beat M. Aldown issued a statement:
"We were anxiously waiting, club in hand. I have to admit that we were apprehensive. Just when I was about to recall all my officers to the station, Lady Luck finally hit: all hell broke loose! Aaaahh! I vividly remember the noise of shattered bones. Sergeant Chad Histik even brought a bloodied 6'4", 300 pound trophy to the precinct. We posed for photographs with it to keep a lasting memory of that fateful day. It was an emotional moment for all of us," the Captain said, a smile on his face and a tear in his eye.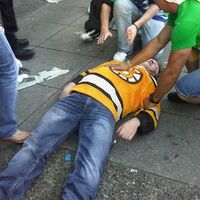 When contacted at the dictatorial castle, Canada's Prime Minister Stephen Harper expressed mildly honest concerns and said, "Canadians are funny. When we announced that we would throw 35 billions of their tax dollars in the trash can in order to buy fighter airplanes to illegally invade sovereign nations, we expected some kind of retaliation but they didn't complain. But they'll riot over a stupid hockey team!" He almost choked afterwards with uncontrollable laughter.
When this reporter finally got in touch with Vancouver mayor Gregor Robertson on his cell phone as the riots were unfolding, the usually composed politician had this to say: "I'M RIGHT IN THE MIDDLE OF THE MAYHEM AS WE SPEAK! THIS IS AWFUL. I AM SPEECHLESS... I JUST CAN'T BELIEVE THIS! WE LOST! THAT'S IT GUYS, TORCH THAT DAMN 'BOSTON'S PIZZA'! HEY, THAT CAR HAS A MASSACHUSETTS LICENSE PLATE! GET HIM OUT AND BEAT THAT MOTHERF..." (dial tone)
Sources
[
edit
]