UnNews:Boris Johnson is coming back
Jump to navigation
Jump to search
---
Every time you think, you weaken the nation —Moe Howard
✪
UnNews
✪
Tuesday, December 6, 2022, 18:31:

59

(UTC)
---
| | | |
| --- | --- | --- |
| Boris Johnson is coming back | | |
21 October 2022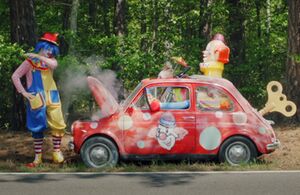 LONDON, United Kingdom -- Former British Prime Minister Boris Johnson is ready to make a comeback. The resignation of his successor Liz Truss, after a premiership that lasted 44 days, has inspired Johnson to put himself forward to lead his nation.
"This will be the quickest resurrection since that Middle Eastern chap in the sandals, J. Christ Esq., came back from the dead," admitted Johnson as he returned to a nation groping for heating gas, from a tropical island that doesn't need it. "My country is in a mess and I am the one to clean it up since I did most of it when I was prime minister earlier. I say to my people as the great Winston Churchill once said — Come back Boris!"
Johnson's unlikely return is because of the implosion of the Liz Truss government when it was told its financial plans were crap. Not just by opposition parties, but by her own members, as well as most financial experts. When the British economy started to collapse, Truss sacked her finance minister and replaced him with someone who tore up her mini-budget as well. A few days later, Truss made a final about-face and resigned.
Political commentators say Johnson has a good chance of returning, as the Conservative Party's members love the dishevelled charms of the thrice-married ex-prime minister. They think he will make everyone love him again and vote for the party, even though the Conservatives are polling 14–20%. Since the main opposition Labour Party is scoring over 50%, this would lead to a near Tory wipe-out if translated into seats in the House of Commons. However, Johnson stresses that any such translation need not occur until 2024, meaning his premiership would be safe — as his last one was too — and so wasn't Truss's.
"Look chaps and chapesses, I know I made a few mistakes before, but I have learnt my lessons," said Johnson. "I am the only one who can lead the Conservatives. The rest of you are just a bunch of losers and stiffs. My political rivals, Rishi 'Tax-Dodger' Sunak and Penelope 'Ahoy, Mateys' Pitstop with her naval slang, are no match for me. I am Boris. I have come back from the political dead."
Sources
[
edit
]