UnNews:Battered Obama frees the hostages
Jump to navigation
Jump to search
---
A newsstand that's brimming with issues
✪
UnNews
✪
Thursday, December 2, 2021, 07:02:

59

(UTC)
---
| | | |
| --- | --- | --- |
| Battered Obama frees the hostages | | |
18 December 2010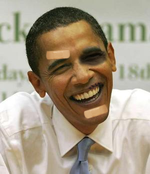 WASHINGTON, D.C. -- President Obama has signed legislation keeping the Bush income-tax rates in place for 2011 and 2012, ending two years of referring to exactly such a move as "givebacks to millionaires and billionaires."
The President declared, "We are here with some good news for the American people this holiday season." He did not explain why his line for the last 23 months wasn't "bad news."
The signing was at the White House, where he was surrounded by legislators of both parties. Except Nancy Pelosi and Harry Reid, the two people who actually run the Congress. It may be that they remember the meeting one week ago where Mr. Obama announced the deal. He referred contemptuously to the Republicans negotiators with as "hostage-takers"--as he admitted he paid their ransom. He also referred to members of his own party who wanted a tougher deal as "clingers," his first use of that term on someone other than gun-toting Christians. Then he ran off to a party (Michelle Obama evidently having taken two hostages of her own), leaving Bill Clinton to clarify things to the press.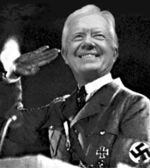 Mid-week, Mahmoud Ahmadinejad held a press conference in Tehran, where he said, "We have not used hostage-taking as a military strategy since 1979. But I have told the Iranian army to consider it." Jimmy Carter, who was President during those heady days, noted with implicit disapproval for Mr. Obama, "I did not give in to any hostage-takers during my administration."
The networks have reported that it will cost $858,000 million to not raise tax rates at the bottom of the deep economic recession. They have also reported that the U.S. could raise three times the tax money by simply tripling the top rate, currently 35%, to send Americans a bill for 5% more than whatever they earned. They say this one simple move could eliminate the national debt.
American politicians were facing formidable deadlines. In 14 days, tax rates would have jumped back to where they were in the bad old days when the nation was still patiently waiting for the September 11 attacks. And in 18 days, a horde of angry, unwashed Republican barbarians will take over the new Congress. They would either have demanded a much better deal for the taxpayer, or have proven much easier to dupe.
In either case, the Senate Republican leader negotiated one-on-one with Mr. Obama, who told Democrats there were no negotiations at all. The leader was rewarded with a seat near Mr. Obama at the signing ceremony, and it might not be long before the nation learns his name. His counterpart in the House of Reprehensibles, Speaker-elect John Boehner, was at the back of the room, sobbing his brains out at this touching moment where members of both parties came together over an agreement that neither believed in.
Sources
[
edit
]