UnNews:Barack Obama urged to dive 'in person' to stop oil leak
Jump to navigation
Jump to search
---
Where man always bites dog
✪
UnNews
✪
Tuesday, December 7, 2021, 06:28:

59

(UTC)
---
| | | |
| --- | --- | --- |
| Barack Obama urged to dive 'in person' to stop oil leak | | |
21 June 2010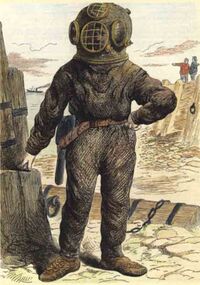 WASHINGTON D.C. -- United States President Barack Obama is being urged to take personal charge of the B.P. oil spill in the Gulf of Mexico by diving in person and fixing it with American made tools.
After a unbiased poll conducted by Fox News, 99% of those asked demanded Obama to be dropped to the ocean floor in a deep sea diving outfit and deal with this disaster in person. They bitterly criticised the president for 'personal cowardice' in not offering this solution already. Some of those polled also said it would unpatriotic for Obama to take up the offer of Canadian born 'Communist' movie maker James Cameron to help in this rescue mission.
Analysing the poll results, Fox News said the oil spill was punishment on America for electing a Democratic Party president. They pointed out that this had never happened when the Republican party was in control of the nation's destinies. A tearful Glen Beck urged 'Obama Benedict Arnold' to get 'his damn leaden boots on and dive! dive!! dive!!! to save the country from British Petroleum and their attempt to revenge their defeat by the great American military leader Andrew Jackson at the Battle of New Orleans in 1815.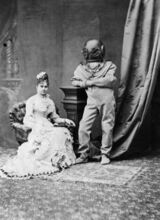 In the 1812 we took on the British Empire and won, said Beck. Now in 2010 let's remind everyone why we fought that war which gave us the Star-Bangled Banner and stopped the English from re-imposing their anti-gun regime of tea and cucumber Sandwiches. Go on Obama - show everyone you don't hate The South!
On Republican websites urging Barack Obama to go diving, they have cited the little known example of a former American president risking his life to save the country. On the reliable Barack-Obama-is-a-Marxist-Communist-Islamic-Jihadist-Supporter-of-European-Liberal-Healthcare-for-Abortionists website, they have produced photographic evidence that Abraham Lincoln had been willing to stop the oil slicks after the Battle of Mobile in the American Civil War. The image shows President Lincoln posing to the camera in a deep diving suit in the company of unidentified lady friend. The website say is proof that Lincoln was prepared to do something about the damage done to Mobile bay done by ships sinking or exploding but that he was shot dead before he could personally go diving. Independent photographic experts employed by Fox television have confirmed the authenticity of the photo and asked the money to be wired to an anonymous bank account in the Bahamas.
The White House has so far not confirmed if Obama has any plans to dive in person to the ruptured pipe line. The president is said to be 'monitoring the situation' until something a bit more news diverting turns up...anything...something...!!!
Sources
[
edit
]