UnNews:Autumn to spark significant rise in migrant numbers
Jump to navigation
Jump to search
---
We distort, you deride
✪
UnNews
✪
Friday, December 3, 2021, 18:33:

59

(UTC)
---
| | | |
| --- | --- | --- |
| Autumn to spark significant rise in migrant numbers | | |
17 September 2015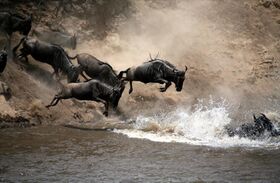 DOVER, England -- As autumn arrives in the Northern Hemisphere, the number of current migrants across the globe is about to take a significant upward trend, as millions, possibly billions more get ready to leave their country for safer climes.
The U.K., taking in only 30,000 human migrants last year compared to Germany's 170,000, has garnered criticism within the EU Towers in Brussels. However, before Germany can celebrate being the nicest country to foreigners in history, the British are bracing themselves to receive 640,000 Manx shearwaters, 700,000 Scandinavian fieldfares and 1.7 million South African swallows.
Having just wolfed through the backlog of paperwork for 11 million painted lady butterflies, the U.K. Border-Collie Force is taking a nap in the barn before the start of the onslaught. Rex, a male sheepdog from Lancashire, said: "When it really kicks off, it's like a scene from a Hitchcock movie; the sky actually goes dark as those shearwaters hit the coast in excess of 40 mph. The noise is deafening. No time for passports, just a case of "sit... stay," and keep an eagle eye out for eagles, parrots, pelicans or any other birds that may fowl up our ecosystem."
In the Serengeti, the problem is even more severe. A Kenyan Border-Buzzard tweeted that his nerves are shot after his squad, and a squad of hyenas, found thirty-two dead chickens in the "fast track" lane, after processing an earth-shaking 100,000 wildebeast, 10,000 zebra and 20,000 gazelles — as they stampeded through Customs at full-tilt.
The buzzard added that the amount of flying debris meant that only the odd cow or horse could be spotted at the time, and these refugee hens from Sudbury in England trying to get to Kenya sadly will be the first of many that will lose their lives taking such risks. In fact, these figures will increase tenfold by the end of next week.
Back in the UK, even at grass-roots level, a Border-Hedgehog is feeling the pace too, as he monitors millions of earthworms starting their migration downwards for winter. A prickly character, Mr. Hedgehog is angry that he catches so many snails, slugs, earwigs and woodlice, trying to cross his decorative grass border, or scale the eight-inch railway sleepers into raised vegetable beds.
When asked about what fate belies any creature crossing his border illegally, Mr. Hedgehog said: "I just eat them. You see, I only have about two weeks between the last "worm down" and my own migration into the straw for the winter. Call it a perk of the job, like when Customs get to keep all the vodka and tobacco you tried to sneak in after that stag-do in Ibiza. "