UnNews:Area couple found Snuggie'd to death
Jump to navigation
Jump to search
---
UnFair and UnBalanced
✪
UnNews
✪
Sunday, April 2, 2023, 09:26:

59

(UTC)
---
| | | |
| --- | --- | --- |
| Area couple found Snuggie'd to death | | |
1 January 2009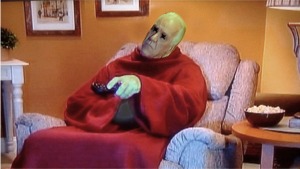 CENTRAL POLICE STATION - UNN When Gladys Buford saw an advertisement for the Snuggie, a fleece blanket with arms in it, she immediatly thought of her husband Monty, and knew it was an ideal Christmas present. According to the couple's twin daughters Darleen and Rayleen, their father was overwhelmed with the gift on Christmas morning. So much so he immediatly put the lap blanket to use, and encouraged his wife to do the same.
Last evening, the Buford's daughters arrived with their families at their parents mobile home for their annual Buford Family New Years Eve Yahtzee Challenge and found the area couple, not toasty warm in their poly-pile Snuggie blankets, but stone cold. The pair had been Snuggie'd to death.
Police suspect that Monty Buford, a retired school bus driver (age 64) and his wife, Gladys, a craft store employee (age 66), were doing their favorite things when their daughters found the bodies. Mr. Buford was discovered on his sofa, where he had worked the remote for the television. Mrs. Buford was found on the sofa, where she had been evidently reading a book. The television was set to Fox News.
"They wanted to keep warm when they were feeling chilled," said Darleen Atkins.
"But they didn't want to add to their heating bills," stated Rayleen Bouvier. "Blankets are OK, but they can slip and slide..."
"And when you want to reach for something, their hands were trapped inside," continued Atkins. "Snuggie solved that problem. Its a blanket, it has sleeves. And Mom was in heaven when she found that she could get two for just $19.95!"
Safety experts, many of which criticized Snuggie as just one more way to keep people sedentary, were outraged with the finding.
Consumer Products Safety spokesperson Marilyn Tuttwiler stated that "This is just another example of a product that is just too good to be true being sold on television to people who are too lazy to do their homework under their blankets at night."
The bodies were removed from the family home and sent to the Mulch County Coroner's office where a report is expected by Wednesday.
In another, but unrelated incident, police reported that a Justpayshippingandhandlingville woman was the victim of a driveby ShamWow'ing. Hilda Chowning, 56, was said to have been walking guests to her car when a passing truck hit a water puddle, splashed the woman with muck. From out of nowhere, witness said that a nasaly voiced man named Vince appeared with a German made ShamWow, which he claimed was more effective than paper towels. The material, made of a space age fiber, absorbed 500 times its own weight, and in the process of cleaning the woman, sucked the blood right from the her body. Police are on the lookout for the man.