UnNews:Amy Winehouse sentenced to a month in rehab
Jump to navigation
Jump to search
---
Democracy Dies with Dignity
✪
UnNews
✪
Thursday, December 2, 2021, 06:16:

59

(UTC)
---
| | | |
| --- | --- | --- |
| Amy Winehouse sentenced to a month in rehab | | |
1 September 2007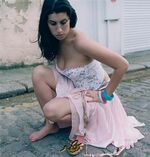 LOS ANGELES, CALIFORNIA: Amy Winehouse, renowned "singer" and professional drunk, was sent to rehab yesterday after she was found guilty of driving under the influence.
Winehouse's troubles began last week when she was partying at a club in Los Angeles. At 3:00 AM, she attempted to drive herself from the club to the hotel she was staying at, four blocks away. Apparently, she took a wrong turn, for her car was found the following day in a suburb outside of San Francisco. The car had crashed through the window of an office building and was emitting smoke. Amy Winehouse was found unconscious in the front seat, completely nude, wearing a sombrero, and surrounded by countless empty martini glasses. Local policemen managed to extract Winehouse from the wreckage of her car, though two cops were blinded by the sight of the singer in her birthday suit.
Policemen discovered that Winehouse's BAC was at 50%, enough alcohol to kill twenty full grown blue whales. After debating among themselves for several minutes, policemen came to the conclusion that Amy Winehouse had been driving drunk. After being treated at a local hospital, Winehouse was arrested and charged with DUI.
At her trial, Winehouse pleaded not guilty, but apparently the judge didn't care, because she was found guilty and sentenced to a month in rehab. As her verdict was read, she stood up and exclaimed, "No, no, no!". Later at a press conference, she explained to reporters, "They tried to make me go to rehab; I said, 'No, no, no!'". She also told reporters, "I ain't got the time and my Daddy thinks I'm fine," and, "I'd rather be home with Ray; I ain't got 70 days!". Despite her complaints, Winehouse was sent to a rehabilitation facility in central California.

LATE EXTRA: Winehouse has been sent home from rehab today, after stubbing her toe. Doctors said the injury was "too life-threatening" for her to remain in rehab. In a twist of irony, investigators discovered that Winehouse suffered her injury while partying drunk with her friends. Due to her celebrity status, the singer had been given a luxury suite during her stay in rehab, complete with a private martini bar. After drinking twenty martinis, Winehouse lost her balance and tripped over a chair, stubbing her toe. Needless to say, the whole nation sympathizes with Miss Winehouse and waits in bated breath to see whether she'll recover from her terrible injury.
Sources
[
edit
]