UnNews:Ahmadinejad captures denial triple crown
Jump to navigation
Jump to search
---
Fake News that's honestly fake
✪
UnNews
✪
Thursday, December 9, 2021, 13:55:

59

(UTC)
---
| | | |
| --- | --- | --- |
| Ahmadinejad captures denial triple crown | | |
24 September 2010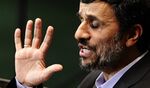 UNITED NATIONS, New York City -- Iranian President Mahmoud Ahmadinejad captured the triple crown of political hoaxes today, as he became both a truther and a birther in a speech before the United Nations.
Mr. Ahmadinejad repeated his longstanding assertion that the September 11 attacks on this very city involved a conspiracy inside the administration of former President George W. Bush. However, in less-well-reported remarks, he also told the delegates he thinks current President Barack Obama was "very probably" born outside the United States. It is a little-known fact that such a fact, if true, would disqualify Mr. Obama from the Presidency.
Thirty national delegations walked out of the General Assembly when Mr. Ahmadinejad made his controversial claims, including Costa Rica, which has always been a bastion of clear thinking, and where the peace and clear thinking are both currently being enforced by American troops. But the other 162 representatives remained and gave Mr. Ahmadinejad hearty applause.
The remaining jewel in the triple crown, denial that the Holocaust actually occurred, has been Mr. Ahmadinejad's position for years.
UnNews has booked Mr. Ahmadinejad on our upcoming weekend television review, Last Week in the Mirror, where our journalistic panel will ask him whether man really landed on the moon, whether there was a second shooter on the Grassy Knoll, and whether Mr. Bush evaded service in the Texas Air National Guard and lost Florida in 2000. And we will also try to get him to tell us whether eating a lot of eggs is good or bad for you.
Sources
[
edit
]