UnNews:9-year-old boy terrorizes elementary school
Jump to navigation
Jump to search
---
The news outlet with approval higher than Congress
✪
UnNews
✪
Thursday, December 2, 2021, 07:05:

59

(UTC)
---
| | | |
| --- | --- | --- |
| 9-year-old boy terrorizes elementary school | | |
5 February 2010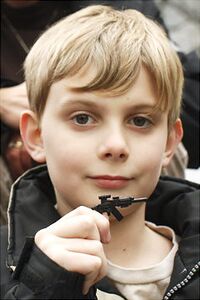 STATEN ISLAND, New York - Terror ripped through an elementary school lunch room this afternoon when 9-year-old recluse and social outcast Patrick Timoney threatened students and faculty of local PS 52 with a two-inch automatic rifle. Screams and pleas for mercy rang out when he coldly and methodically drew the weapon and brandished it for all to see.
No one was injured in the incident, but damages from the mass flight from the room are estimated at twenty-seven dollars for a single plastic chair that was kicked aside and separated from its base.
"It was truly frightening," recalled a shaken Principal Evelyn Mastroianni. "I mean, yes, the gun was very small, but none of us had any way of knowing whether or not it was loaded. In a situation like that, you have to assume the worst. As soon as I saw the gun, I was scared, but I knew what I had to do. I walked right up to him, held out my hand and took it from him." Mastroianni is being hailed as a hero by school parents tonight for her brave and swift action in avoiding a Columbine or Virginia Tech type massacre. A ceremony honoring her deed is already being organized by the PTA. She passed it off as just doing her job, however. "If it happened again, I'd do the exact same thing. Needless to say, the boy has been expelled and is being detained by school authorities. We're just very glad no one was seriously hurt."
Timoney is well-known in the school as an outcast, always playing by himself with his Lego toys at recess. "Patrick was a loner type," recalled classmate Robert O'Rieley. "He pretty much always kept to himself. But no one thought for a minute that he'd be capable of something like this."
Law enforcement authorities are still investigating the matter of where the young boy got his hands on a weapon of this type, but sources have indicated that it was most likely an accessory to one of his toy sets that he is always so deeply involved with. Local toy companies are being served with cease and desist orders regarding the sale of items such as the gun in question until further notice. In the mean time, parents of PS 52 students are being advised to keep their children indoors while the school is on lockdown, until the administration receives clearance to re-open the facility.
Sources
[
edit
]