UnNews:"Je ne sais pas", admits Frenchman
Jump to navigation
Jump to search
---
Straight talk, from straight faces
✪
UnNews
✪
Thursday, December 2, 2021, 06:22:

59

(UTC)
---
| | | |
| --- | --- | --- |
| "Je ne sais pas", admits Frenchman | | |
2 March 2008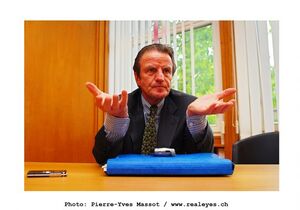 MARSEILLES, France -- Today, Bernard Kouchner, French Minister of Foreign Affairs, admitted in a press conference that he had "no idea what was going on any more", and went on to say that "the world really is screwed up, and I haven't a clue what to do about it". Mr. Kouchner was later found in his office, huddled under his desk and sobbing.
Many French citizens are calling for his immediate removal, on the basis that he is evidently no longer fit for his job. However, the French government have resolutely refused to allow such a thing to happen, and a spokesman today said that "Mr. Kouchner has an unfortunate history of mental difficulties that are in no way related to the French Secret Service. It is not that he is unfit to operate in his post, it is merely that he needs some time to lie down quietly in a cool, dark place for a while. I am sure, as are many, that he will have made a full recovery and rejoined us within a fortnight."
British Prime Minister Gordon Brown extended his sympathy to Mr. Kouchner, and said "I've known Bernard for a while now. We used to go golfing together whenever we found the time. However, since he wasn't used for top secret experiments he hasn't been the same." There are doubts in the UN over Mr. Kouchner's ability to perform his role in government correctly, although his complete lack of anything to do with the French Secret Service and the experiments they didn't carry out are being taken into account.
Colleagues from Doctors Without Borders, which Kouchner himself founded, are rallying around the flummoxed Gaul as if to shield him from gamma radiation, or perhaps, even reality itself. Henry Kissenger, long time cheerleader for France, was quoted from his home as saying, "It makes one wonder if this addle-pated condition might be contagious, and if so, did he catch it from George or Jeb Bush?"
Sources
[
edit
]