The Forest That Nobody Cares About
Jump to navigation
Jump to search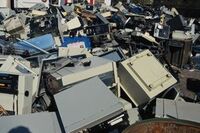 The Forest That Nobody Cares About is nestled deep in the heart of the Galapagos Islands, a teeming suburb of Portland, Oregon. The forest was discovered in 1954 by the creator of the vacuum cleaner. He named the forest "The Forest That Nobody Cares About" because he thought it was "hilarious." Nobody really did care, and the name was never changed.
The Forest That Nobody Cares About is unusual in that it contains no trees or other plant life. Instead, it is populated entirely by discarded computers, monitors, stereo equipment, digital cameras, iPods, cracked CD jewel boxes, and beer cans that nobody cares about.
In 2003, an American atomic bomb test briefly turned the Forest That Nobody Cares About into a parking lot, but despite the fact that a lovely entrance kiosk was constructed, no automobiles chose to park there. After six months, the amount of discarded gear had grown back to nearly its previous levels, and the Forest That Nobody Cares About once again became a forgotten, lonely, desolate, and uncared-about place. (Rumour has it that Bon Jovi will appear there on their next World Tour, though no official announcement has been made.)
Early in 2006, the Article That Nobody Used to Care About was used as a bizarre strategic ploy by a small group of people to make a point to someone about something. Nobody knows (or cares) what these individuals were doing, or why, or against whom. While most sources agree that the incident was a simple case of mistaken identity, the target of their supremely subtle, clever, and yet ultimately futile action has yet to be revealed, much less found and eliminated. However, unnamed sources indicate that he, or she, is simply enjoying some relaxing time at home with his (or her) family, or is possibly out shopping. Later that year, Uncyclopedia made this forest the site of Uncyclopedia: Forest Fire Week.
See also
[
edit
]