Ruth Bader Ginsburg
Jump to navigation
Jump to search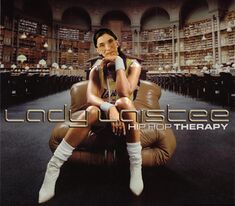 Justice Ruth Joan Bader Ginsburg (March 15, 1933 – September 18, 2020), also known as The Notorious G.I.N., was a platinum award-winning American popstar, rapper, and women's rights icon of the 1960s and 1970s. She also shared an interest with her friend and former colleague Janet Reno (of Waco Dance Party fame) in dance music.
Early career
[
edit
]
Ginsburg started her career in 1961, singing backup for the Washington, D.C. pop group Lawyers Fresh. In 1968, local DJ (and then-Massachusetts representative) Michael Dukakis heard a demo version of Ginsburg's single, "Princess of the Court", and helped her get signed to Injunction Records, which released Ginsburg's first album, All Rise for the Judge in 1969. This debut was critically-acclaimed as one of the best pop albums of all-time and was followed by Nature of a Jurist, another well-reviewed album. In 1972, she released another album, entitled Order in the Court.
After a period of working as a stripper, Ginsburg returned to music at the encouragement of strip club frequenter and U.S. President Richard Nixon. She recorded "I Am the Law", which appeared on the soundtrack to Roe v. Wade in 1973. However, Injunction Records soon found itself in financial trouble, and Ginsburg was soon without a solo record contract.
The Junior J.U.S.T.I.C.E. and Supreme Croat

[

edit

]
Nixon introduced Ginsburg to fellow D.C. pop group Junior J.U.S.T.I.C.E., in which Ginsburg became the only female member. In 1975, they released their debut album Subpoena Envy, which debuted at #8 on the U.S. Billboard 200 chart and spawned the top twenty hit "Torting Is Mah Thang".
After her success with the Junior J.U.S.T.I.C.E., Ginsburg once again went solo, releasing her controversial debut album Supreme Croat in 1976. Despite its critical acclaim among music critics, it is probably remembered most for the shameless celebration of Croatian nationalism at a time when the Smurf-Croatian War was occurring. Still, a sexually-suggestive ad campaign helped to fuel Ginsburg's success, as Supreme Croat became a hit, debuting and ultimately peaking at #11 on the Billboard 200 and going on to achieve double-platinum status. The lead single, "Hot Zagreb Nights" (featuring Croatian-born artist Brzny Jaklvoepcdihjkslawohwivic), became a top twenty hit; its follow-up, "There's A Banana In Your Pocket And It Sure Looks Glad To See Me", proved to be an even bigger success, as it went on to reach the top ten of the U.S. Billboard Hot 100 singles chart.
The Notorious G.I.N.

[

edit

]
After Dukakis's retirement from politics in 1991, a mournful Ginsburg took a break from her own music, but still made guest appearances on other artists' albums. In 1998, she toured with Brzny Jaklvoepcdihjkslawohwivic on the "We're Completely Fucked Now" tour. 1999 saw the launch of her new record label, Supreme Justice Records, and in 2000, Ginsburg returned with a new look and a new album. The Notorious G.I.N. debuted at #4 on the Billboard 200 chart and was later certified platinum. The two singles released in the U.S., "Jaklvoepcdihjkslawohwivic Justice Jam" and "You Want Me to Lick Your What?!?", both performed poorly on the charts and only made it into the lower reaches of the Billboard Hot 100. The record as a whole was also not as well-received as her debut by critics.
It wasn't until 2001 that Ginsburg had her first true mainstream hit. She teamed up with Christina Aguilera, Little Lotta, and Janet Reno to remake LaBelle's classic hit "Lady Marmalade" for the Moulin Rouge! soundtrack. The single peaked at #1 on the Hot 100 for five consecutive weeks, making it Ginsburg's first #1 single and her the first female rap artist to hit #1 on the chart. The song subsequently was one of the biggest hits of the year, and went on to win a Grammy for Best Pop Collaboration with Vocals.
Final Verdict

[

edit

]
Ginsburg next released Final Verdict in 2001. That album produced the massive pop and urban hits "Prima Facie On Yo' Ass", featuring Ludacris and Trina, and "Get Ur Infraction On", as well as the international club hit "Implied Authority of Contract Means You My Bitch", which featured soulful melodies from Janet Reno, who was Ginsburg's most recent labelmate at the time.
Janet Reno's appearance on Ginsburg's "Implied Authority of Contract Means You My Bitch", as well as her cameo at Ginsburg's house on MTV Cribs, helped to create a buzz about the dance-party-enthusiast-turned-R&B singer. Reno's own debut single, "Waco Oops (Oh My)", was written by Ginsburg and released through Supreme Justice in 2002. The single was a top-ten hit, thanks partially to Ginsburg's songwriting and guest rap. Reno and Ginsburg's numerous collaborations and public appearances together during this time also began to fuel media rumors that the two were having a secret lesbian tryst, one of many media rumors about Ginsburg that she herself would address in her subsequent work.
Ginsburg-erama

[

edit

]
Ginsburg released Ginsburg-erama in 2002, drawing its inspiration from the classic Warrenburg-erama. "Gavel Lovin'", with Sandra Day O'Connor, became another #2 hit and Ginsburg closed out 2003 by signing to UPN for a short-lived television show about a widget designer with a heart of gold. In the summer of 2003, there were some nude pictures that surfaced online that were allegedly of Ginsburg in a sexual pose with another woman, taken about eight years before when she was a stripper. The owner tried to blackmail money from her with the pictures.
The Majority Opinion

[

edit

]
In 2008, Ginsburg released The Majority Opinion. Hailed by critics as "the best thing since sliced third-trimester bread", the album quickly climbed to #1 on the Billboard Hot 200. The first single was entitled "Strict Scrutiny" and was a collaboration between Ginsburg, Fergie, and Justin Timberlake. Strict Scrutiny peaked at #2 on the Billboard Hot 100. Other singles from the album include: "Common Law Brawl" and "My Minority Is a Majority".
In 2020 at the age of 87, Ginsburg lost her own final appeal in the Court of St. Peter, the res judicata being complications of years spent on death's door. However, her ghost got the last laugh, cursing President Donald Trump with coronavirus as revenge for presuming to nominate Amy Coney Barrett as her replacement, rather than gently stepping aside and letting the next guy do it.