Newcastle United
Jump to navigation
Jump to search
"Worst Soccer player Ever"

~ Comic Book Guy from the Simpsons on Michael Owen
"Newcastle marked my downfall as a player and I will never forgive them."

~ Patrick Kluivert on Newcastle United
"Snapped the ugly bastards leg, Get in"

~ Nigel De Jong on Hatem Ben Arfa Leg
Newcastle United Footbaaaaall Club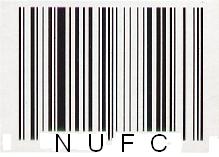 The Black and White shirts
Founded:1892 AD (Ant & Dec)
Ground: StJamesPark@SportsDirect.com
Nickname: Looney Toons
Capacity: 80,000,000
Manager: Rafa "Fat Spanish Waiter" Benítez
Owner: Mike "Fat Cockney Bastard" Ashley
Director of Doing Fuck All: Joke Kinnear
Sporting Ambassador: Alan Shearer
Club Legend: Jackie Milburn
League: Premiership
Colours: Black and white
Kit Supplier: PUMER
Sponsor: Richard Branson the Virgin
Newcastle United is an asylum in the North East of England which rehabilitates people from the surrounding area through various activities and sports (horse-punching being the newest addition), the most prominent of which being football or at least a version of football familiar to the Newcastle fans and known as 'crap football'. Much to the dismay of the small village that lives in their permanent shadow, the mighty Newcastle do not allow Sunderland to win in their home ground (unless they lose by at least 0-3). Nor do they allow Sunderland to win in the small, substandard ground known as "La Stade Du Merde" otherwise known as "The Stadium of Shite", a name stolen (in true Mackem tradition) from Benfica. On hearing that their name had been stolen, Benfica commented "Who is Sunderland please?".
Club Colours
[
edit
]
The club played in a number of colours before adopting their famous black and white stripes. The origin of the colours being adopted is a legendary tale on Tyneside. Club Captain Lord Archibald Bulls-Knacker, 7th Duke of Walker was invited to a well to do fancy dress party, attended by a host of celebrities of the day, including His Majesty King Victoria. Bulls-Knacker had gone to the party as a zebra. The following morning he awoke still blind drunk in a hedge and stumbled home to his mansion on the fashionable Scrogg Road. Bulls-Knacker got changed, had a shit, a wank, a shower and a shave and then returned his outfit to the fancy dress shop. Only he had in fact returned the club strips (back in those days, the club captain was legally obliged to wash all the strips and have sex with the other players' wives). Realising his mistake and with a vital game just five minutes away, Bulls-Knacker had no alternative but to fashion some shirts from his Zebra outfit. From that day forth, the club were affectionately known by their now famous nickname 'The Black and White Zebras'.
Another interesting fact is that Juventus (a gambling organisation from somewhere near Italy) once managed to intercept a whole crate of stolen Newcastle United shirts, and claim them as their own. When pressed by the authorities, the then chairman, or mafioso Dom DaMauritio, simply denied all allogations and stated that he had never heard of Newcastle United. This was later proved to be correct when locals could not recall their city having a side. This was furthered by the almost pristine state of Bigg Market at 5:00PM every saturday: Newcastle had not been formed yet and would not be for another 100 years until 1992
1900 to 1992
[
edit
]
Newcastle United existed, but no current fans can confirm this. It is of the belief that while the team trained, the players never realised they had to actually play football. Silly old Geordies. They began to ads for their club. But everybody thought it was stupid. So they kicked it's ass. People wonder to this still day how they ever got any fans. The must be Alternate lives.
1992-2007
[
edit
]
This is the year Newcastle United was formed, this is proved to be accurate as detailed above although it should be noted that before this time there really was fuck all to talk about so people choose to re write history and choose 1992 for the date of Newcastle Uniteds creation, anyway moving on. Keegan saved Newcastle from relegation to the old third division on the final day of the 1991/92 season and the following season was able to guide the team via an elaborate escape tunnel (in which dirt was hidden in the ceilings of the St James' Park offices) to the Premiership. The club's fortunes under Keegan and Sir John were on the up as player after player arrived to join the Tyneside revolution. Over the next several years, United took the Premiership by storm and in the summer of 1996, United paid a world record £15million fee to bring the Geordie born goal ace, U2 Frontman and star of 'The Apprentice, Alan Shearer home. Shearer stayed at United for 10 fantastic minutes in which time he became the world's highest ever goalscorer, came back from 15 career threatening and 10 life threatening injuries, developed a plan with Bob Geldof to rid the third world of debt and poverty, had bust ups with the dark forces of Ruud Gullit and Craig Bellamy, evicted unlawful squatter, Graeme Souness and led United to a very lucky 4-1 victory over the forces of evil.
Disaster struck for United at the 2006 World Cup when England striker Michael Owen, ruptured knee ligaments. Club Chairman, Freddy Fat-Fuck (otherwise known as Jabba the Hutt) was furious demanding at least 19 million Greggs Steak Bakes from the FA as compensation. The club sent Owen to have a bionic knee fitted which allows him to run at 300 MPH (marginally slower than his normal pace) and stop opponents by activating laser death rays. Thankfully the Sugar Puff Honey Monster was fit and filled the breach perfectly.
The following season, things looked dull for our "heroic" team. With Glenn Rodent and Fat 'Jabba' Freddy at the helm, United plunged into the sticky mess that is the bottom half of the Premiership (thats anywhere below Chelsea FC or Manchester United who are the best teams in the world and take up exactly half the league.). Disheartened, the fans became outraged, and are now rioting every week (instead of the ususal 3 times a month) this is much to the joy of Sunderland fans, who, to be honest, don't ever really have much to celebrate. Bad signings like Albert Luque (who we believe to be from somewhere near Dartford), Damien's Duff, Antoine Sibierski (another french slap-head) and Titus Aurelious Uselessious Bramble (one of the remaining Team from the Roman Ages) led the side down a bad road, and made the team not so much play football, as look like a mid-afternoon jog for pensioners, and cripples.
One small ray of light amongst all of this footballing darkness was the superb slapstick comedy produced by that now legendary defensive pairing of Jean-Alain Boumsong and Titus 'That's another fine mess you've gotten me into' Bramble. Their routines lying somewhere between Buster Keaton and Fatty Arbuckle, Boumsong and Bramble had an almost telepathic mis-understanding of each other, the rest of the squad and the game of football in general. Boumsong was shipped off to Juventus for the then record fee of half a Milky Way and a pat on the back and Titus went to Wigan Athletic albeit in the slightly less important role of tea boy. Hope remains that he will return to premiership action and rumours of a move to Sunderland have proved to be not entirely unfounded as Roy Keane has publicly stated that he thinks Titus is 'pure mint' and would love to sign him not only to bolster Sunderland's back four but also to take over dog walking duties on Thursday afternoons. Another interesting point of note is the fact that Bramble was the first premiership player to wear Dr Martin boots instead of the more mainstream football boots worn by other players.
The French Revolution 2012/13 Season
[
edit
]
The 2012/13 season saw a new type of player at Newcastle. Alan Pardew and The Fat Cockney Prick decided that they would attempt to join the French Ligue 1, since they were in a state of undoubted relegation from the Barclays Premier League. To do this, they signed as many players that could speak French as physically possible. Although their crusade to reach the promised land of French football was a faiklure, they still insist on trying to achieve their new dream.
The Shearer Prophecy
[
edit
]
The one belief of Newcastle United supporters that keeps them breathing every day is that the great Alan Shearer will one day return to Newcastle. Nobody knows when this second coming will occur, but many believe that it will be after Shearer's front lock of hair has gained full independence from the rest of his head.
Kevin Keegan will have come and gone a further 7 more times, Mike Ashley will have sold the club to the local circus and the club will finish 17th 5 more times before this can happen, though it will still finish above Sunderland after beating them by 4 goals or more.
Recent Events
[
edit
]
The disappointing 2006/07 season culminated in Rodent's forced resignation following the penultimate game of the season. After much rumour and specualtion, Jabba agreed to share his vast quantity of steak bakes and other Greggs pastry products with 'Fat Sam' Allardyce (who had spent the past several 'successful' seasons taking the unfashionable Bolton Wanderers up to the dizzy heights of the lower top half of the Premiership with their semi-scientific brand of 'airborne football'). Following this news, the club announced that next year's season ticket prices were to be raised in the upper parts of the stadium, as much of the play would now take place at that level.
As the summer rolled on, St James' Park became the scene of a swift and dramatic coup, as the sports retail billionaire Mike Ashley set his sights on taking over. Jabba was obstinate but ended up being rushed to hospital, where he remained for a month, following a serious Steak Bake related injury. With Jabba out of the scene Ashley bought up the shares belonging to the largest share-holder and former ruler of the Empire of the Metro Centre, Sir John Wynyard Hall, and his evil layabout son. On learning of this, Jabba cried and wailed, proclaiming that he had been stabbed in the back. However, Ashley offered Jabba £5m, and a thought bubble immediately appeared as Jabba realised how many Steak Bakes he could buy for £5m. As he realised it would make him the largest (literally) Steak Bake owner in the world, and an evil laugh emanated from his ample frame, for he was to stay on as 'the big man' - chairman..... well at least for a few weeks or a month or so before they kicked him out.
Meanwhile, Big Sam ditched a number of players, with the useless (Bramble), mediocre (Sibierski), and just plain invisible (Bernard) among those who left Tyneside early on. Dire - sorry Dyer (it's so easy to confuse the two) spent the summer whining before being sold to relegation dodging/cheating/legitimately surviving (delete as appplcable depending on bias) West Ham.
With a new manager, new players and a new regime, what could possibly go wrong?
What went wrong
[
edit
]
And so the 2007/08 season got underway, with the scientific 'Big Sam' at the helm. Allardyce quickly revolutionised the whole set up at the club with experts drafted in to Allardyce's huge backroom staff, including the appointment of professional boffin Steven Hawkins as first team coach. These changes completely altered the way that the team played, switching attacking midfielders to defensive roles whilst employing only the middle of the pitch, leaving the wings free for the grass to grow and the opposition to dominate. So concerned was Sam about letting the grass grow that he ordered the players to keep the ball in the air rather than ruin the pristine grass. However, somewhat puzzlingly, the team's form was affected and the fans reacted accordingly. Shortly after the new year, Allardyce was shown the door by chairman Chris Mort. When Sam commented that he didn't like Mort's new door, he was sacked.
Luckily, Newcastle have now learned their lesson and signed exactly the same daft idiot who started the whole sorry saga.
Return of the King
[
edit
]
After a failed attempt to sign Elton John, Kevin Keegan was welcomed back with open arms. Newcastle sold out of slimming cereal for the first time ever. This time is now commonly recognised as Easter on Tyneside. Somewhat inevitably, though, this eventually went wrong as King Kev was sacked by a goggle eyed goblin named Dennis Wise for reasons that remain unclear. Mike 'Fat Cockney Bastard' Ashley initially reversed the decision in true Vince McMahon fashion only for KK to tell him "You fat fucking cockneyshit bag, your shops sell cheap clothes that falls apart after wearing once and I pissed in your coffee too". Ashley has since banned any mention of KK at Sports Direct International S.J. Park until he is dead, preferably of a massive obesity related heart attack. A £1,000,000,000 reward has been offered for the capture, torture, mutilation, castration and lobotomy of Wise. Unfortunately he has not set foot in Newcastle since.
The Aftermath
[
edit
]
Newcastle then employed around 7 managers before settling on Joe Kinnear, a pensioner who lived in a council estate down the road. This however, helped the fans with their chanting, because whenever they chanted "There's only one Joe Kinnear" they actually were wrong, Sunderland's greatest landmark the council house is full of them. Fortunately, Mr Kinnear then collapsed due to Newcastle's increasing use of brown ale during the end of the season, and suffered a heart problem, leaving Mary Poppins (aka Alan Shearer) to "save the club" in their last desperate attempt. Which failed, and they were relegated into the fizzy pop league. After a season where Andy Carroll, Kevin Nolan and Peter Lovenkrands basically promoted the Toon Army to knock on the premier leagues back door once again, they were welcomed with open arms... at a 3-0 defeat in the hands of Manchester United. Following a derby win at home to Sunderland, which lifted their hopes. They then started overshadowing Sunderlandonce again, but Ashley was told if he sacked then manager Chris Pouton he could have a greggs pastie, and appointing has been, Alan Pardew. Pardew then sold Carroll so that Mike Ashley can buy 35 million pounds worth of pies, thus securing their place in football history as the "most shitly run team ever".
However in the 2011/12 season Newcvastle's form has greatly improved. This is suspected to be because of a french invasion to the North East after Alan Pardew discovered he was related to Napoleon. Cheryl Cole has returned as the teams mascot and Mike Ashley has spent all of the Carroll, Nolan, Barton, Enrique money on Greggs, concubines, sweat shops and Derek Llambias.
Newcastle United Facts
[
edit
]
A common known fact is that in recent years Sunderland have been incapable of beating Newcastle. In recent times they have had to rely on an own goal from Newcastle in order to gain a point.
Ex-Chairman Freddy Fat-Fuck is rumoured to be the world's only 'Pasty Billionaire'.
Ex-Chairman Freddy Fat-Fuck's pasties would cover the entire surface area of the city of Rotterdam and could be stacked on top of one another in this area to a height of two miles.
Former Manager Sam Allardyce is the nephew of America's 'Uncle Sam'.
Ex-Chairman Freddy Fat-Fuck underwent a procedure known as oral-bowel reversal surgery. This means that shite comes from out of his mouth and he talks out of his big fat arse.
Decrepit old faux-Scottish bastard Rod Stewart is the latest in a number of talentless has-beens to perform concerts at St James', though with tickets priced at a mere £6,500, it promised to be an 'unmissible' gig... except for the vast majority of the world's population of course, who did not attend and for whom it was entirely missible.
Amnesty International are set to accuse the club of torturing their fans, due to the ineptness of the team's performance, but mainly because of the continuous playing of Rod Stewart songs at games towards the end of last season to promote the fake Scot's recent gig at St James'.
When Middlesbrough were in the UEFA Cup Final, the jawdees were know to have been watching the Bill sat at home until the final whistle when most fell out of their chairs laughing at the 4 - 0 score line, hence the chant "geordies at home not watching the bill, watching the smogs getting stuffed by seville"
When attending football matches in nearby Middlesbrough,, Newcastle fans are advised to wear full nuclear and biological protection suits for their own safety and leave their children at home
Mike Ashley is in the Guiness Book of Records for eating the most Big Macs in 24 hours (3,068).
Mike Ashley wears an XXXXXXXXXXXXXXL sized football shirt when he attends matches with F(lash) A(sh's) T(otal) C(lassy) U(ltra) N(ice) T(rainers) printed on the back
Peter Beardsley is a model on how the Sunderland supporters look, but was still voted better looking than Steve Bruce, Jamie Pollock and David Vaughan in a recent competition
Newcastle was the inspiration for the song by Muse, 'City of Awesomeness'
The club recently imposed a 25 stone minimum for fans entering the ground. Fans must also provide 2 Nandos Loyalty books (completed). This proves to be quite the problem on derby days when almost half of Sunderland's 104 travelling supporters are forced to remain outside the ground, listening to the match on their Ford Capri radio.
Newcastle United once beat Manchester United 20 - 0 but Alex Ferguson whined and moaned at the referee for 2 months and then threatened to cry and stamp his feet that he reversed the result to 2 - 1 to Manchester United.
Newcastle midfielder Cheick Tiote doesn't fear the Grim Reaper, the Grim Reaper fears Cheick Tiote
Recollections
[
edit
]
"I was at the their first ever match. Pons Aelius East End they were then. They played near Hadrians Wall in Heatonium, near to where the railway is now. As a Roman, I supported the Roman Army team from across town in Condercum. Pons Aelius West End. East End beat us and the very next day, we were ordered back to Rome."

~ Tacitus on Newcastle United
"Hughie Gallacher, what a man! What a player! He'd be in a crack den with about 10 minutes to go before the game started, smoking crack, snorting a line or shooting up on Heroin! we'd have to carry him up Barrack Road! Imagine that! supporters carrying the star striker to the game! For a lad who wasn't even born at the time, it was an honour, I can tell you! Often he was just out there in a world of his own. Once he was out there on the pitch though, he was like Fred Adare the dancer who was also a fireman.....sorry what were you saying?"

~ Sir Bobby Robson on Newcastle United
"Sack of Coal Milburn. Sackie was a gentleman. Whatever you needed, he'd help you. If you needed Coal for your fire, Sackie always had some. Of course we all had gas or electric fires or central heating in those days, so nobody ever did. But if you needed it, he'd give it to you......well, possibly, if you asked nicely and gave him 50% of your wages for the next five years."

~ Jackie Milburn on Newcastle United
" I couldn't believe it when I signed. I got off the train, and being a London boy I was just in awe of the place, the lights, the clubs. It was a fantasy land, just like Hollywood. They even had a Wimpy, which was a real luxury back then. All the stars flocked to the place. I remember meeting John Lennon in Fenwicks"

~ Malcolm Macdonald on Newcastle United
"When I made Back To The Future, I originally wanted to cast Jack Charlton in the role of Doc Brown. I rang him and met up with him for lunch at Sarah's Restaurant, which used to be just inside the Northumberland Street entrance of Eldon Square. I begged and pleaded and he said he'd like to do it, but he just didn't have the time as he was busy failing as Newcastle manager."

~ Steven Spielberg on Newcastle United
"These last ten minutes when I came home, I've lived the dream and dreamed the live. It's all I ever wanted to do, well apart from be a train driver and be in U2. Oh, I do that as well don't I? "EL-E-VATION! WOOH!""

~ Sir Alan Shearer on Newcastle United
Glory Hunters
In the Hunt, if that mattered
Also Ran

Category