Franz Schubert
Jump to navigation
Jump to search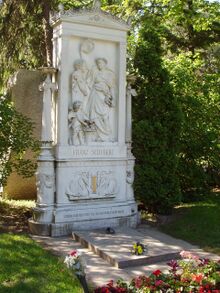 "He's gay?!? All those afternoons I spent with him, and I thought that he just wanted to fluff my pillow to make me comfy"

~ Oscar Wilde on Franz Schubert
"The one composer who isn't Jewish, is rubbish!!! What a disappointment."

~ Wagner on Franz Schubert
Franz Schubert was a man who died on 19 November 1828 in Vienna, Austria, after living a short, miserable life as an unsuccessful composer, nevertheless leaving a mass of finished compositions and a mess of unfinished ones.
Before death
[
edit
]
Franz Schubert was born on 31 January 1797 in Vienna into humble circumstances, and he remained in a state of poverty for the rest of his life. Thus, on 31 January 1829, he might have been celebrating in equally humble circumstances his 32nd birthday, had he not died about two months earlier.
Schubert had been intended to become either a sewing machine or an insurance clerk. Eventually, however, he ended up being dead.
Schubert spent most of his life trying to scrape a living as a composer. This was not easy, as Schubert was in the unfortunate position of being a contemporary of composer and music mogul Ludwig van Beethoven, who practically dominated the music market of his time, leaving little to no room for other composers. It was therefore only after Beethoven's death that Schubert stood a chance of somehow establishing himself in the music world. However, Schubert died only one and a half years after Beethoven, and these one and a half years did not make any significant difference for Schubert's career.
Around 1820, Schubert contracted syphilis from himself. In addition to that, he began to suffer from typhoid fever at some point. These diseases caused Schubert a great deal of pain, so much pain that he contemplated suicide in late 1828. He spent many hours pondering what a good way to kill himself would be. He need not have bothered, however; he died naturally from one of his diseases on November 19 that year.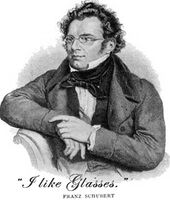 Nine numbered symphonies make up the core of Schubert's work. Among the more famous ones is his Symphony No. 8 in B Minor. Already at its premiere had it been a huge success, even though only the first two movements were performed at that concert due to the fact that the other two movements were not finished at that time. The reason the conductor simply performed the two movements and didn't wait for Schubert to complete the other two was that Schubert had already been dead for 37 years and was therefore not likely ever to finish the symphony.
Another famous symphony of Schubert is his Symphony No. 9 in C Major. However, unlike his Symphony No. 8, it took quite some time for the 9th Symphony to become popular. When Schubert originally sent the score to the Gesellschaft der Musikfreunde in Wien (German for "Society of Music Friends in Vienna"), to whom he had dedicated the symphony in an attempt to curry their favor, they tried to play it, but were hopelessly over-challenged with the work and didn't perform it in concert, much to Schubert's frustration. When some conductor eventually premiered the work with some orchestra, the performance went rather mediocrely and the event passed without stirring much interest (the orchestra and conductor of this performance are unknown, probably with good reason). In the second performance of the symphony several years later, the first three movements were left out for some reason, leaving only the forth, and last, movement in the program (again, the names of the orchestra and conductor remain shrouded in mystery). Only when Felix Mendelssohn, an actually able conductor, conducted the whole work with the likewise able Leipzig Gewandhaus orchestra, the performance was received tumultuously and the symphony was finally accepted as a masterpiece. Schubert himself, however, was unable to attend this concert and thus could not enjoy the enthusiastic reception of his symphony by virtue of being enclosed in a coffin buried somewhere in a Viennese graveyard, so he would never know that his 9th symphony ever received anything more than indifference or rejection.
Strangely enough, many people consider Schubert's 8th Symphony, the unfinished one, to be his best symphony and claim that it actually is finished. There is also a little confusion because Schubert wrote his 9th Symphony before he wrote his 7th.
It was discovered upon his death that Schubert had been composing a nationalistic Symphony No.10, 'Finnish,' a preemptory accolade for the only two Finnish composers anybody knows, Sibelius and Rautavaara. Since Schubert died while writing this symphony, it is neither Finnished nor finished.
Schubert also produced a fair number of Lied (Australian for 'catchy tune') which belong to the repertoire of every cook and golf professional nowadays.
Apart from that, Schubert composed a number of piano quintets, most of which take their name from various species of fish. These include:
Piano Quintet in A major Op. posth. 114 D, 'The Trout' (based on Die Forelle)
Piano Quintet in J minor Op. 89, 'The Pike'
Piano Quintet in Å major Op. 100, 'The Canned Tuna'
Piano Quintet in MX + B flat major Op. 112, 'The Flounder'
Piano Quintet in Ö minor Op. premat. 01, 'The Bream'
Piano Quintet in Y major Op. Ph.D. 17, 'The Baltic Herring'
Piano Quintet in Ack major Op. 94 ½, 'The Fish Fingers'
Piano Quintet in Þ minor Op. π, 'The Cuttlefish'
Schubert – like Beethoven, Chopin, Wagner, Stravinsky and other giants of classical music – was a midget.
External links
[
edit
]