Chicago Cubs
Jump to navigation
Jump to search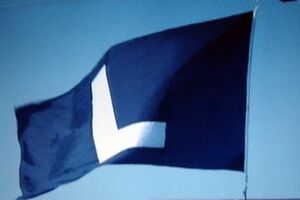 "Now would be an appropriate time to tell them that they're not playing cricket."
The Chicago Cubs are a made-up professional baseball team that has been used in skits by hundreds of comics for over a century. Their tales of comic torment and near triumph (only to have something hilarious happen to cause them to lose) have entertained generations of comedy and baseball fans, particularly followers of the Chicago White Sox.
In 1901, vaudeville comedians Abbot and Costello became big baseball fans after Ban Johnson, Charles Comiskey and other baseball pioneers created the American League. The comic duo loved the sport, while at the same time seeing the comedic value of a huge range of potential goofs, from badly thrown baseballs, to tripping while running, to choking to death on chewing tobacco while kneeling in the on-deck circle.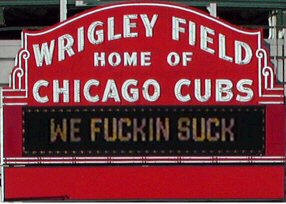 The duo were envious of New York because their home town, Chicago, didn't have a National League team. Therefore, in September 1901, they came up with a fictional franchise named the "Chicago Cubs", a bumbling gang of misfits who tried their hardest to succeed but just couldn't get the breaks, like hitting or pitching. Skits would often involve poor attempts at bunting, hilarious base punting, fantastically overplayed throwing gaffes, winning against non-existent little-league teams, and even a guy who knocked himself silly after running into an outfield wall covered with vines.
There are two theories regarding the origin of the nickname "Cubs". One is that the skit took the name as an oh-so-cute knock-off of the Chicago Bears football team. The other is that "Cubs" doesn't refer to bear cubs at all but is an acronym for Completely Useless By September. Other theories suggest that the team had to have a name that would satisfy Abbot and Costello's flaming homosexual fan base. A name such as Bears or Giddyups would just not do, and would scare them off.
Interestingly, the skit nearly came to a screeching halt in 1908 when the duo tried a new comic direction and decided that their "Lovable Losers" (as their fictional team came to be known) had lost enough. That year, a series of improbable skits had the Cubs finally stumble onto winning ways, concluding with an unexpected victory in the World Series. Reactions were swift: the duo had bar stools and beer bottles thrown at them, their homes were egged, and the fans kept away in droves. Following this butchering of their popular routine, and convinced by the violent reactions of their critics, they decided their "Cubs" would never win anything again - a comic tradition that has continued to this very day.
The Middle Years
[
edit
]
As Abbot and Costello's careers came to a close, other comedians continued the act and built on the comedy gold left to them by the two giants of humor. Most skits followed the old model, but some talented comics turned the Chicago Cubs into a team for the ages, hitting paydirt when provisions were added that the Cubs occasionally had to get to the brink of winning it all, only to blow it at the last second.
For example, in a particularly memorable 1984 Saturday Night Live skit, the Cubs made it to the National League championship series, but lost when a baseball rolled between a player's legs! An extremely popular gaffe was added in 2003 by a young comic named Steve Bartman. In his version the Cubs, again in the NLCS, are on the cusp of winning when a baseball player played by Chris Rock loses a pop foul into the bleachers, blames a fan for interfering with the ball, and promptly causes the rest of the team to fumble, choke, and walk around like blind-men at the seashore.
Bartman (as reclusive fan Steve Bartman) and Rock (as Moises Alou) went on to star in "Oh, Those Crazy Cubs", a situation comedy which ran for two-seasons on Fox. They perfected their missed-catch skit to such a degree that they could do it in their sleep, and often did.
Popularity Today
[
edit
]
The skit now tends to stay away from the idea of having the Cubs get "to the brink" and has instead, once again, relegated them to being beaten like women on a regular basis. Most fans seem to prefer this tried and tested formula.
2008 marked the 100th anniversary of the unpopular winning season skit. A handful of fans urged that the Cubs be portrayed as victorious again, to satirize and commemorate the dreadful writing of the 1908 season, but the comic world, knowing a good bit when they saw it, just continued portraying the Cubs as losers beset with the curse of Job and the comic antics of Lucille Ball.
Comedy Club
[
edit
]
The Comedy Club where the skit is mainly performed, Chicago's Wrigley Field, is, of course, built on top of an ancient Indian burial ground.
See also
[
edit
]
AL

East
Central
West

Detroit Tigers
Minnesota Twins

Houston Astros
Texas Rangers

NL

East
Central
West

Atlanta Braves
Miami Marlins
Philadelphia Phillies
Washington Nationals

Arizona Diamondbacks
Los Angeles Dodgers
San Francisco Giants