Cardi B
Jump to navigation
Jump to search
Belcalis Marlenis Almanzar (born October 11, 1992), known professionally as Cardi B and "Hey, Ho!", is a female American rapper from the Bronx in New York (coincidentally near the residence of equally-annoying female American rapper Nicki Minaj). Cardi is known for the following:
Rapping about her pussy
The "My momma" memes she spun as a child, and
Her #1 smash hit song "Black and Bodak Yellow", in which she extensively rapped about her pussy.
Among non-rap-fans, what she is known for is doing something bizarre with the back of her tongue during a serious interview with then-Presidential candidate Joe Biden.
Musical style
[
edit
]
Cardi B's signature rap style — known as the WAP style — intermingles several different topics, listed below. In order of frequency, these are:
Her pussy. No surprise there.
The crazy amount of money she had, which was emphasized in both "Bodak Yellow" and "I Like It" (feat. Bad Bunny and J Balvin).
Other bitches. Apparently, she had a personal grudge against every other woman in the rap game, along with a few well-known men in the rap game (like there are any other than 6ix9ine, who was recently jailed).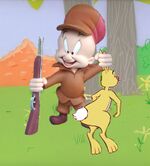 Cardi's style of flow is repetitive, but she changes the lyrics rather than changing her rhythm and flow. Come to think of it, it wasn't such a good idea after all. For example, in "Bodak Yellow", she says:
Said little bitch, you can't fuck with me if you wanted to
These expensive, these is red bottoms, these is bloody shoes
It should not be necessary to explain to the reader the subtle allegory and allusion in the above lyrics.
Cardi B is obsessed with money, bodily fluids, and exchanging money for bodily fluids. The fluids were originally blood but have evolved to fluids that might make a wet-ass pussy (WAP) wet. The mainstream rap community is concerned about her, and probably everybody else too.
Controversies
[
edit
]
Cardi B is a feminist, and claims that she has used men to get what she wants in the world and that it makes her feel "so damn powerful." She also identifies as a "stripper hoe."
She also caused significant controversy after throwing her shoe at, and attempting to fight, popular Barbie Doll rapper Nicki Minaj (the one who changed her hair color three times while rapping with 6ix9ine in "Fefe").
Religion
[
edit
]
Cardi B is Catholic, and claims to have a special relationship with God. She was known as Bishi B until 2018, when Pope Francis elevated her to Cardi B even though she is a stripper hoe. Vatican City envisages her attaining the rank of prelate (Prelly B) and being the City's personal liaison to Satan. The always outside-the-box Francis imagines that she might win over the Prince of Darkness with the promise of sexual favors.
See also
[
edit
]