Auschwitz
Jump to navigation
Jump to search
WARNING! This article is designed to offend.
If you are not offended by it, please edit it so that you will be in the future.
For an example of how to be offensive, see: Holocaust
You may be looking for Mauschwitz and not even know it!
"In my defense, everyone seemed to be having a good time."

~ Adolf Hitler on Auschwitz
"Everyone seems to go through there on the way to Florida, or something"

~ the wisdom of Chris Moyles
"Let us never tolerate outrageous conspiracy theories!"

~ Adolf Hitler on Auschwitz
"Auschwitz is an inside job"

~ Man on Truth Movement about Auschwitz
"Auschwitz... I've been there four times... Oh! Not for fun!"

~ A Polish man on Auschwitz
"Auschwitz is a great place, you can even use the ovens for free!"

~ A German Advertiser
" Come buy our lampshades! They're to die for..."

~ German salesman on Jews
Auschwitz (Swedish for "Ausweg", or "Resort") was the most popular of a chain of holiday and summer camps founded by German entrepreneur Adolf Eichmann in 1940. Adverts for Auschwitz ran in numerous media outlets in German-occupied Europe throughout the early 1940s. Accompanied by the memorable 'strangled cry' jingle, Auschwitz adverts stressed the camp's dedicated staff, direct train service and its all-season hot and cold running showers.
Auschwitz: the Rise and Fall
[
edit
]
The state of the art warehouse-like facilities at Auschwitz initially proved popular. Stylish clothing, extensive accommodations and rigorous recreational activities all went down well with residents, and surveys reported a 0% complaint rate. However, Auschwitz and the theme park that was added onto it as an expansion, Birkenauland, struggled to attract repeat guests, and the camp remained a once-in-a-lifetime trip for the majority of its visitors.
Originally targeted specifically at the Jewish market, Auschwitz soon opened its steel-reinforced, air-tight doors to gypsies, homosexuals, communists, political activists and the mentally ill. Although the business went well for a few years, its not enough to stave off the inevitable economic problems that faced the camp; in 1945, the Third Reich PLC went bankrupt and was forced to sell the property to a Soviet consortium. The camp, along with the rest of the European chain, was closed shortly thereafter. A number of similarly-themed holiday camps continued to run in Japan for several months, but these too were forced to close in 1946.
While Eichmann and other notable businessmen involved in the Endlösung der Judenfrage enterprise - including Adolf Hitler, Heinrich Himmler and Hermann Goering – were personally ruined by the collapse of the business, a number of less well-known directors were able to leave before the final takeover. Most retired to the Americas, where they are still vigorously pursued by German- and Polish-born former shareholders who suffered as a result of what they term the 'mismanagement' of the venture.
Birkenauland
[
edit
]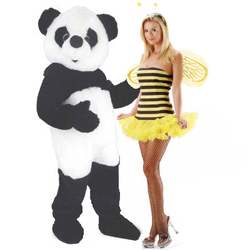 In October 1941, buoyed by early success of the Auschwitz holiday camp, Eichmann started work on the project initially known only as Auschwitz II – It's Back. And This Time, The Solution Is Final. With government funding and sponsorship from top German companies including IG Farben and Krupp, the theme park Birkenauland, as it was eventually christened, was completed well ahead of schedule in time for the busy Christmas/Hanukah season of 1942.
Once they passed through the death gate entrance visitors were greeted by a rousing chorus of the Birkenauland theme song, sung by the popular park mascots. From there, inmates were referred to one of several different zones offering rides, foodstuffs, forced labour, medical experimentation and death by gas chamber or firing squad. Of the numerous attractions, the most famous are Doctor Mengele's Circus of Horrors, the Crazy Crematoria, Rudolf Höss's "Shoot a Jew", and the Furnace Flume ride. [1]
Birkenauland theme song
[
edit
]
Barbed wire, loaded with death is drawn around our world.
Above a sky without mercy sends frost and sunburn.
Far from us are all joys but hey, at least we have those showers, right?
Bush connection
[
edit
]
It was recently discovered that President George W. Bush's close relative Walter F. Busch (1920-1944), died at Auschwitz. The truth is, he wasn't an inmate... he fell out of the guard tower.
Blue Tank Engines
[
edit
]
A blue engine calling himself Tom Hanks is credited with transporting over 500,000 Jews (and other mistakes) to Auschwitz, which they claimed to be "Disneyland". Because of his work in the transport of inferiors, Tom Hanks was personally awarded the Iron Cross by Adolf Hitler. He had PR value in that he had the highest Kill/Death ratio of any locomotive. In addition to this, he remains to this day the only train to run exclusively by Jews as a source of fuel.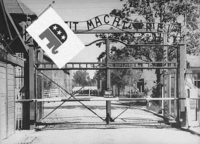 Auschwitz was also the setting for the popular televised situation comedy Himmler's Heroes.
Anne Frank fell in love with a flock of gypsies at Auschwitz. She then fell in love with a bunch of Hungarians, then a bunch of communists. Apparently, this was why she was so popular.
Auschwitz has been accused of contributing to global warming due to its gigantic, constantly running furnaces; Nazi officials, when questioned on this, blamed the resident Jews.
The Jews had to pay to use the furnaces, gas chambers and other facilities before using them on themselves. The others did not need to pay.
Rudolf Höss, who ran the camp from 1940 to 1943, loved Auschwitz so much that he returned there to spend his final days.
Real life events at Auschwitz were purportedly the inspiration for the best-selling computer game Holocaust Tycoon.
Auschwitz was so successful, there is a new camp opening called Gaza.
George Bush announced that he had a relative who died in Auschwitz. What he didn't announce was the fact that this relative fell out of the guard tower.
The slogan over the entrance, "Arbeit Macht Frei" translates to "Work Frees Your Set" and was voted #3 on VH1's Top 100 usages of sarcasm.
See also
[
edit
]
References
[
edit
]
↑ Primo Levi, Holidays in Auschwitz