World War Collectors Boxset
Jump to navigation
Jump to search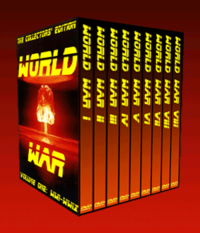 Have you ever found yourself thinking "This is the perfect moment for a World War"... but not having one? Never again! The World War Collectors Boxset is a fantastic collection of over 100 hours of film footage from all 30 World Wars. Travel back in time with this amazing set of 40 high-quality DVDs or VHS videos. Watch all the classics you've forgotten and reminisce about those marvelous days gone by. See how it all started with WW I, the war to start all wars, and watch as social progress is brought crashing down in each classic installment as mankind trumps itself at self-destruction in ways no alien could ever hope to accomplish.
Watch the Spanish fight the English, watch the English fight the Dutch and the Dutch fight the English, watch the Germans fight everybody, time and time again and watch the French surrender so readily so often. "Such an amazing collection set of wars would cost well over $300," I hear you say, but this amazing product can be yours for only $9.99 a disc. But that's not all. If you order now, you'll also receive a small nugget of gold, taken illegally from a World War Minority by one of the evil superpowers to fund its war machine (probably the Germans). It's a deal you can't miss. Order by credit-card and you'll also receive an adorable miniature war criminal figurine. Which one will you get? Mussolini? Mengele? Eichmann? J. Alois Ratzinger? Collect them all!
Hours of entertainment for only $9.99 a disc
[
edit
]
Do you remember who won World War V? Remember that thrilling conclusion to World War XII? Now you can relive those precious moments, for just $9.99 per disc. Bring back memories about the friends you made and children you lost at the front. Were you in the war? Maybe you'll see yourself!
High-quality DVDs
[
edit
]
The wars have never looked this clear. If you wanted any better quality, you'd have to fight in them yourself. DVD resolution brings you the antiquated black and white footage as clear as the day you were shot. 16.2 channel hyperdolby makes the explosions sound like you're the one being blown up! No concessions have been made in the quality. Some of the longer Wars even span two or three discs!
Heaps of extras
[
edit
]
In addition to a World War, each disc also contains a bevy of extras. Never-before-seen footage, production stills and more! Watch hours of Hilarious Bloopers. Prototypes gone haywire, demagogues stumbling over words, soldiers cracking up (literally!).
Sixteen of the War discs have audio commentary by the original World Leaders. Hear the incredible inside information from the people behind the war, as they bumble through yet another global crisis! Hear the touching stories of the fundraising drives for World War VIII, the harrowing fishing expedition in World War XI 1/2, the great penguin orgy after World War XX, and the "Very Special World War," World War XV.
Disc 8 contains the never-before-seen World War VI Viagra commercial. Disc 9 contains Himmler's very own the French Strike Back, an unerring comedy about what it would be like if the French were German.
You can't miss this offer
[
edit
]
Pick up that phone and order now. You deserve this disc set. Call 800-555-WARFUN to give yourself or someone you love the gift of hours of entertainment. If you call in the next ten minutes, we'll send you a copy of the next World War - free! After that, you'll be sent each additional World War as they occur. If you'd like to stop subscription, cancel at any time. Remember: wars come along every few months, but a collection this good is once in a lifetime!
See also
[
edit
]