UnTunes:Do They Know It's Kwanzaa?
Jump to navigation
Jump to search
Lyrics by Joe9320. A direct parody of Do They Know It's Christmas? by Band Aid
Singers:
NB: All proceeds from buying this song will go directly to the Uncyclomedia Foundation and Africa for USA for the relief of Hurricane Katrina.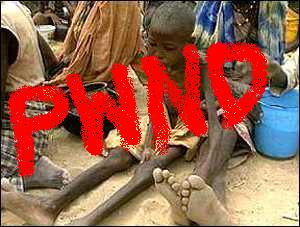 It's Kwanzaatime.
There's no need to be afraid.
And in our world of nothing we can spread a smile of joy.
Throw your arms away at Kwanzaatime.
But say a prayer.
At Kwanzaatime it's hard, but when you're having fun.
There's a world outside your hole.
And it's a world of dread and fear.
Where the only water flowing is the drowning of No Orleans.
And the Kwanzaa niggers that shout there are the clanging storms of doom.
Well tonight thank your ancestors it's them instead of you.
And there will be snow in America this Kwanzaatime.
The greatest gift they'll get this year is food.
[Oooh] Where something ever grows.
Do they know it's Kwanzaatime at all?
[Here's to you] raise a cup for everyone.
[Here's to them] underneath that hidden sun.
Do they know your mum's a n00b at all?
Dry America.
Dry America.
Dry America.
Let them know your mum's a n00b again.
Dry America.
Let them know it's Kwanzaatime again.