UnNews:Pelosi pushed-to-transmit
Jump to navigation
Jump to search
---
A newsstand that's brimming with issues
✪
UnNews
✪
Sunday, December 10, 2023, 20:18:

59

(UTC)
---
| | | |
| --- | --- | --- |
| Pelosi pushed-to-transmit | | |
11 January 2020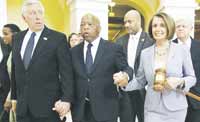 WASHINGTON, D.C. -- Speaker Nancy Pelosi has announced that she will "take steps" to transmit the House's articles of impeachment to the Senate for trial.
The House impeached President Donald Trump before the Christmas recess but Pelosi has held the resolution for nearly a month, "until we see what the forum is." Most analysts say that the forum is certainly the Senate, where Pelosi is, incidentally, not Speaker. Pelosi's delay may have been a bid to extract favorable terms, such as that the trial be held in the House sub-basement bunker, with interrogation and testimony by Democratic Party lawyers, and Rep. Adam Schiff (D-CA) permitted to leak out information in dribs and drabs.
Senate leader Mitch McConnell stated that, if Pelosi doesn't disgorge the document "this week," he would support the motion by Sen. Josh Hawley (R-MO) to start the trial anyway and pretend they knew the particulars. Late this week, several Senate Democrats pressed Pelosi to "get off the pot." Sen. Chris Coons (D-DE) said, "Let's get on with it. We did impeach him, didn't we? It's been such a long time, I forget." Even Sen. Dianne Feinstein (D-Feces and Syringes) said, "If you've got it, send it over."
"If you don't, well, don't," she added.
Sen. Susan Collins (R-ME), who faces re-election in 2020, stated, "Consistent with the hearings on Justice Kavanaugh, I am looking forward to having the entire nation look at me, for days of apparent indecision, to see if I vote with my party or 'go wobbly.' Perhaps even make book on how I'll vote."
Under this bipartisan pressure to deliver the papers this week, Pelosi announced that she will, "next week," transmit the Bill to the Senate, or at least "take steps" toward that end. Among the steps she might take are finding an envelope of the appropriate size, scrounging for the correct postage, and perhaps posting the letter to McConnell's home in Old Kentucky, in one final bit of defiance.
Pelosi must also appoint "managers" to present the House's case in the Senate. Along with Schiff, these might include Jeff Bezos and Bill Gates, who are reportedly very good managers. In addition, Pelosi has recently had effusive praise for Iran strongman Ayatollah Ali Khamenei, who has developed a personal interest in seeing the case against Trump presented effectively.
Sources
[
edit
]