UnNews:NSFW (or Anywhere Else): Hillary Clinton photographed nude
Jump to navigation
Jump to search
---
Fake News that's honestly fake
✪
UnNews
✪
Tuesday, March 21, 2023, 04:36:

59

(UTC)
---
| | | |
| --- | --- | --- |
| NSFW (or Anywhere Else): Hillary Clinton photographed nude | | |
6 June 2013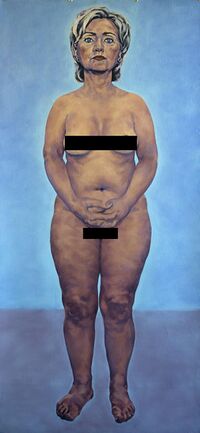 NEW YAWK, NEW YAWK – Failed presidential candidate and controversial former secretary of state, Hillary Clinton recently had an employee of Bare It All Glamor Shots fired for having had the "temerity to photograph" her while she was naked.
The employee, John Barrett, photographed Clinton without her permission on April 22. She was "shooting a surprise birthday gift" for her estranged husband, the controversial former president, an electronic album of her in her birthday suit.
The album, dubbed "Top Secret," was intended, she said, for his eyes only, although unnameable sources suggest that she may have seen to it that a few copies were "leaked" to her lesbian admirers, including Susan Rice, President Barak Obama's latest national security adviser, who lied about the Benghazi fiasco.
The reason that Barrett says he photographed Clinton in the buff is the same reason that artist John Currin painted the likeness of a bare-breasted Bea Arthur: "I'm a fawning fan."
Barrett said he "admires" Clinton because "she constantly reinvents herself. She's been a lawyer, a governor's wife, a First Lady, a senator, a presidential candidate, and a secretary of defense. Rumor has it that she will be president after the next election. I figured a picture of her sagging tits and flabby ass, would fetch millions, despite the pimples and cellulite. These days, nudes of ugly, but powerful, women sell better than those of the sexiest Hollywood celebrities. I mean, Jimmy Kimmel paid $1.9 million for Bea Arthur's sagging boobs."
Initially, upon learning that Barrett had photographed her au naturel, Clinton wanted "his head on a platter." However, when she was informed that it is illegal, nowadays, even under the Obama regime, to decapitate criminals, she said she would "settle" for his ass being fired.
Clinton left the business no choice, a spokesman for the company complained. "At Bare It All, we guarantee our clients' privacy. No one sees them naked but those whom they select. They enjoy the highest expectation of privacy when they strip for our cameras."
Barrett, however, contends that Clinton had a different motive for having him terminated. "She's an extraterrestrial," he told Unnews reporter Lotta Lies. "I caught her in her alien state, without the prostheses in place that give her a somewhat human appearance. Believe me, you don't want to see the real Hillary Clinton!"