UnNews:Labour demands right to labour from lounge
Jump to navigation
Jump to search
---
Fake News that's honestly fake
✪
UnNews
✪
Sunday, November 28, 2021, 23:08:

59

(UTC)
---
| | | |
| --- | --- | --- |
| Labour demands right to labour from lounge | | |
19 June 2021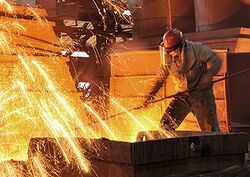 LONDON, United Kingdom -- The Labour Party has demanded labourers be given the right to labour from home, applying pressure on the government of Prime Minister Boris Johnson not to let consultation on flexible working become another political can kicked down the potholed pavement.
It's the first major announcement by Angela Rayner, the opposition party's token Corbynista, recently appointed as Shadow Cabinet Minister for Appeasement of British Academia Hell-Bent on Tearing Down Statues and Politicising Children.
The MP said that fat-cat property magnates should not be able to force bricklayers to lay bricks at their workplace, when they can easily do so from the comfort of their illegal conservatory extensions on Zoom. Also "right to disconnect", meaning workers would have a reasonable expectation of not being asked on WhatsApp to mine for potash, refine naphtha or load-test an aircraft's superstructure at home, beyond their normal working hours.
The announcement comes as attention turns to holding on to the positive benefits experienced during the Covid-19 pandemic, which for some have included Microsoft Project, the Health and Safety at Work Act and personal protective equipment – as well as having somewhere to bury soiled nappies.
Working remotely from under her garden pergola, the Parliamentary Under Secretary of State for Employment, Mimms 'mine's a Pimms' Davies, promised to look into workers' rights for a better work-life balance sometime after three-o-clock canapes — although that could go-right, as she's quite drunk and the internet can be a bit natty in Swansea. The government had already launched a consultation on giving workers a right to request flexible working, but is yet to launch a consultation on giving employers a mandate to agree to it.
Ms Rayner wants to go further, stating the right to flexible working should be guaranteed and negotiated by aggressive, anti-capitalist activists and beret-clad revolutionaries, given the Tories have said there are no plans to introduce a right to work from home, on the basis that a thatched cottage on the leafy outskirts of Watford is no place to undergo a heart bypass.
She said: "We cannot have a drawn-out consultation process that simply kicks this urgent, if relatively short-lived, issue into the long grass, leaving workers in a vulnerable position and allowing employers to dictate terms to their staff."
The assertion has left employers concerned, as leaving statutory employment terms such as working hours, location, benefits and salary to the discretion of the employee, or the employee's feminist post-grad cousin, is very bad for business.
A No.10 spokesperson said: "The 2019 manifesto contains a clear commitment to consulting on making flexible working the default, unless employers have good reasons not to, such as requiring employees attend the workplace because they are militant, bone-idle leftist incompetents needing constant supervision, like the BBC or Their Royal Highnessnesses, the Duke and Duchess of California.
"Ensuring workers have a work-life balance is extremely important, we understand that people are not very productive if they are dead — except perhaps in the House Of Lords. The chaps have reconvened the Flexible Working Taskforce, with a live-feed from the Platinum Lace pole-dancing club in London's Soho district, to better understand and promote flexible working practices."
Sources
[
edit
]