UnNews:Jet Li attacks Chinese film censors
Jump to navigation
Jump to search
---
We distort, you deride
✪
UnNews
✪
Friday, June 2, 2023, 09:02:

59

(UTC)
---
| | | |
| --- | --- | --- |
| Jet Li attacks Chinese film censors | | |
21 August 2007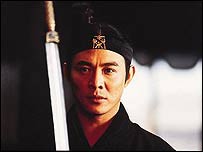 RENO, Nevada -- Chinese action star Jet Li has ended film censorship in China by means of a systematic slaughter of all censors, after being told that some of the films he made in the West do not get shown in his home country.
Although a total number of casualties has not yet been confirmed, given the number of censors known to have been active in China, it is thought to be in the region of 100,000,000 people.
Li, a former national kung fu champion, was reported to have been "shocked, horrified and disgusted" at the decisions made by censors. "The withdrawal of freedoms, such as what movies one can and cannot watch, are not amongst the things that makes our land great" the star said, whilst relieving one censor of his life.
Several days and 0.1 billion bodies later, the star claimed that the banning of Hollywood films such as his 2000 hit "Romeo Must Die" had justified his actions.
"My films are always incredibly realistic," said the star of "The One." He went on to argue that Chinese film censors, and policemen assigned to protect them, suffered their grisly fate as a direct result of the restrictions they placed upon the film industry. "Typically, like films, life has good and bad characters," the star said. "If someone judges that my films are inappropriate, and police officers try to back up that claim, then what type of character would people deem me, if I didn't start an argument about it?"
China, ever worried that her citizens be made aware of the existence of better countries, meticulously controls media content and only allows about 20 foreign movies to be officially screened each year. Movies such as Gigli, Good Burger, Catwoman and Brokeback Mountain are amongst the few films seen as appropriate to release onto Chinese audiences, encouraging them that elsewhere is not better.
And China's Film Bureau used to have the power to request further editing of films which it considered to contain offensive scenes. One such film was "Dragon: The Bruce Lee Story."
The Chinese news agency Xinhua said scenes with actor Jason Scott Lee were cut because his character - some guy from Hong Kong - was an insult to the "country's" population. The entire movie was reduced to a 6 second commercial.
Li is currently shooting Hollywood movie The Forbidden Kingdom with fellow martial arts expert Jackie Chan, who is said to be "quite annoyed" by the latest developments. "Man, I was hoping no-one in China would get to see Rush Hour 3", the star was quoted as saying. '"Yu See said that the recycling of tired jokes was a rubbish way to add more length to my product, and Mi agreed with him. I am not happy about it."
Sources
[
edit
]