UnNews:Curious George Sequel has been released today
Jump to navigation
Jump to search
---
We distort, you deride
✪
UnNews
✪
Thursday, March 30, 2023, 23:11:

59

(UTC)
---
| | | |
| --- | --- | --- |
| Curious George Sequel has been released today | | |
19 October 2007

WEST PALM BEACH, FLORIDA - A violent sequel to the Curious George children's series titled "Curious George stabs the Man in the Yellow Hat" has been released today and is now on the bookshelves. Some adults have criticized the sequel because they feel violence is not appropriate for young readers, and the violence rate is expected to rise 3% as a result of the book. It is thought that high demand is a factor, as there hasn't been all that many sales in the Curious George series and "maybe something that actually interests the readers would bring money" says Curious George author H.A. Ray.
Well, H.A. Ray is correct, the book has received record prices in the Curious George series, combined, as a result of the adventurous book.
Most of the sales were not from children, but from adults, which shocked the media. In an interview with an anonymous reader, he quoted "We need to read something humorous but short"
The violence begins when Curious George is at a pawn shop and experiments with guns and knives[1]. He then according to the jury purposely stabs The Man in the Yellow Hat multiple times. Hospital officials reported that The Man the Yellow Hat has 83 blunt force injuries and is in critical condition.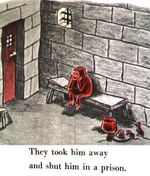 This book concludes the Curious George series as The Man in the Yellow Hat died and Curious George is serving a life sentence in Prison for first degree murder and is not eligible for parole. George's Lawyer defends George, saying "The Man in the Yellow Hat had it coming for mistreating the defendant," and "did anyone really like The Man in the Yellow Hat anyway? Besides George is a Monkey and not eligible for Human law." The Prosecution argued that "Under PETA Monkeys are given the same rights as Human Beings, and thus are subject to Human law and the Jury must find the Defendant Guilty even if he is a silly monkey, he is a sociopath by Human standards." The Jury found George guilty, and the Judge said "You will die in a prison cell." to Curious George. It seems Curious George had gotten into trouble a lot in the past with the law as he was arrested once before for playing with telephones. Curious George smiled and laughed, oblivious to his punishment for the crimes he had committed as the police escorted him off to prison for life. After that Curious George wasn't happy or curious anymore.
Jack Johnson has been quoted saying books are "violent", "inappropriate", "filled with swears", and "bad for children". ==Endnotes==
↑

He's curious, isn't he suppose to experiment?
'Bold text'
I would like to add that this whole article is wrong because Hans Augusto Rey died in 1977 so their was no way that he could have wrote this sequel in 2006.
Sources
[
edit
]