UnNews:Costco to sell marijuana by the bushel
Jump to navigation
Jump to search
---
Who knew The Onion® had a retarded stepbrother?
✪
UnNews
✪
Sunday, November 28, 2021, 21:32:

59

(UTC)
---
| | | |
| --- | --- | --- |
| Costco to sell marijuana by the bushel | | |
20 April 2007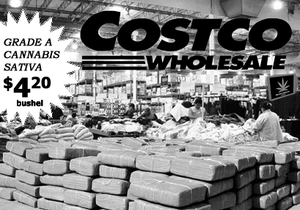 ISSAQUAH, Washington -- James Sinegal, CEO of Costco Wholesale Corporation, today announced that effective today, April 20th, 2007, that the company would begin selling marijuana in bushel-sized wholesale bales to the public. Sinegal cited market research showing that Costco's current offerings were not appealing to the "stoner" segment of the market, now estimated to number 69 million. "Those baby boomers will love our plasma-screen TVs and porterhouse steaks once we get them in the stores, but we need something to hook them in, like marijuana." said Sinegal.
Costco signed an exclusive contract for its West Coast supply of weed with Stoner High School, a major exporter of the crop. At a press conference, SHS Minister of Finance Teresa Osborne estimated this will generate nearly 666 billion extra credit points ($92.5 billion USD), most of it to be earmarked to the school alcohol budget. Added SHS Director of Controlled Substances Maximilian DeLarkey, "Hey, duuude... this is sweeeet, man... totally groovy... what was I saying?"
Because of the massive quantities purchased by Costco, Sinegal negotiated substantial bulk discounts for the marijuana and has stated that Costco intends to pass the savings onto consumers, pegging the price of weed at an astoundingly low $4.20 per bushel as advertised in the latest newspaper circulars. Market analysts also believe this, among other things, will improve customer loyalty. "They'll just keep coming back for more. It's an irresistible bargain," said Costco COO Dick DeCerchio. "We will also be expanding our cookie and soda aisles to accommodate an increase of 'munchies purchases', as projected by our Market Research Department."
The weed, which will be sold under Costco's "Kirkland Signature" brand, will be available in stores today. Long lines of unkempt red-eyed figures were seen lining up outside shuttered Costco warehouses waiting for the stores to open. "Dude, it's... sooo awesome, like, man... it's worth the 9 hour wait... yeahhh... I wouldn't wanna, like, show up after they, you know... run out, man..." said one customer.
Anti-corporate activists suggested that this "dumping" of weed was designed to push mom-and-pop corner vendors of marijuana out of business. "Once again, Corporate America has decided to act in the interests of the bottom line, regardless of the negative consequences to the little guy," said CostcoWatch in a press release. An anonymous spokesperson for United Weed Dealers agreed, commenting that "Costco's predatory pricing is destroying the livelihoods of dealers on the street."
Sources
[
edit
]