UnNews:Cosmic Psychos, Hard-Ons, Skid Row unaware of related iTunes downloads
Jump to navigation
Jump to search
---
Democracy Dies with Dignity
✪
UnNews
✪
Thursday, December 2, 2021, 07:12:

59

(UTC)
---
| | | |
| --- | --- | --- |
| Cosmic Psychos, Hard-Ons, Skid Row unaware of related iTunes downloads | | |
19 May 2011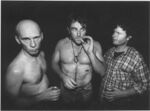 MELBOURNE, Australia, GNN (Goanna News Network). AUSTRALIAN pub-punk-rock legends Cosmic Psychos and the Hard Ons and American '80s glam metal band Skid Row were yesterday completely oblivious to the fact that they had each had songs downloaded by the one fat, drunk bastard last night.
Melbourne pisshead Brent "Potato" Couchman said there was a logical connection between the unlikely MP3 bedfellows.
"Well, my turntable is fucked now, so I can't play any of my old records," Couchman explained.
"I only fucken found this out last week when I came home shitfaced and tried to play my old 45 of Love Shack by the B-52s. Talk about a cunty fucking time to find out that your fucking turntable is totally fucking fucked."
A week later, the fact that Couchman was drunk again and the fact that iTunes was open on his PC combined to inspire him to try to download MP3 versions of his now unplayable vinyl records.
"Of course, the best (Cosmic) Psychos album is the live double album with the white rabbit on the inner sleeve, but the lazy cunts never put that on the iTunes, apparently," Couchman said.
Luckily, Couchman was quick to find that some clouds have a silver lining.
"At least they have this one album on iTunes that I used to listen to a couple of songs of off, like Moll and Chainsaw, which I taped off of an ex-mate and used to listen to on my Walkman when I was walking to work at The Times when I used to live in London."
Those songs quickly joined Motorhead's Ace of Spades, Britney Spears's Toxic and Bruno Mars's The Lazy Song on Couchman's iTunes "Purchased" playlist.
"After that, I downloaded a bunch of Hard Ons songs and the three good songs off of Skid Row's second album," Couchman said. "I was so pissed (drunk) that I just didn't give a shit."
Spokespersons for the Cosmic Psychos, the Hard Ons and Skid Row last night declined to comment.
Couchman's iTunes buying spree was his biggest since mid-2010, when he downloaded Motley Crue's entire Dr Feelgood album plus bluegrass cover versions of Dr Feelgood and Kickstart My Heart. He now intends to download That Ain't Bad by Ratcat.
Sources
[
edit
]