UnNews:Commissioner suspends Hillary
Jump to navigation
Jump to search
---
Straight talk, from straight faces
✪
UnNews
✪
Friday, December 3, 2021, 18:31:

59

(UTC)
---
| | | |
| --- | --- | --- |
| Commissioner suspends Hillary | | |
12 May 2015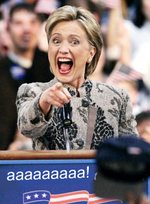 NEW YORK CITY -- The National Football League came down hard on America's biggest star and suspended Hillary Clinton (D-USA) from the first four debates of the campaign season.
Investigator Ted Wells, on a roll after the NFL accepted his report on Tom Brady, offered the league a package deal to do a second report, this one on the likable, inevitable Democratic candidate for President in 2016.
Wells investigated payments from Saudi Arabia, ISIS, and La Cosa Nostra to the Bill, Hillary, and Chelsea Clinton and Buddy and Monica Foundation. As in his 243-page report on Tom Brady, Wells found "no clear evidence" linking those payments with abrupt changes in U.S. foreign policy, such as flash permission for the Russians to buy 20% of the U.S. uranium supply. But the report concluded it was "more likely than not" that skullduggery was going on. The four-event sanction mirrored the punishment given to the famous quarterback with a gaudy new Super Bowl ring to go with his trophy wife.
"Quid? Pro quo?" replied Hillary at a press conference, as she still holds an Arkansas law license. The Commissioner declared that "no one is allowed to mess with the rules of the game." In fact, just as quarterbacks are allowed their own supply of 12 footballs, in a rule change that Brady himself negotiated, Democratic candidates are allowed their own game pieces, as when Candy Crowley, portraying a "debate moderator" in 2012, declared Barack Obama "correct" in his notorious lie to Mitt Romney.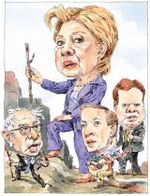 Though neither Wells report could show cause and effect, the Commissioner based his actions on a pattern of evasion and failure to cooperate with the investigation. Hillary said she too had airtight excuses, including a whirlwind diplomatic trip to Peru that left her unable ever to testify to Congress, a "bump on the noggin" after a nasty fall, and the curious absence of thousands of official emails from her private Department of State server in her barn at her Chappaqua home. But that's Old News and it is time for the nation to Move On and elect "someone with a vagina."
Like Brady, Hillary will be able to appeal the suspension and perhaps get it reduced to two debates. The sanction includes a hefty cash fine, which Hillary said she cannot pay, as she and her husband, despite six-figure speaking fees from groups that obviously don't care what they have to say, are "Dead Broke."
Hillary might spend the enforced vacation undergoing Ankle Reduction surgery. Tom Brady tweeted her that he knows of a good man with the needle, known as "The Deflator."
Sources
[
edit
]