UnNews:Colosseum reopens in Rome
Jump to navigation
Jump to search
---
A newsstand that's brimming with issues
✪
UnNews
✪
Tuesday, March 21, 2023, 17:18:

59

(UTC)
---
| | | |
| --- | --- | --- |
| Colosseum reopens in Rome | | |
26 September 2006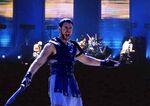 ROMA, ITALIA, IMPERIUM ROMANUM (SPQR) -- The ampitheatre that symbolized the Christians' (and not to mention the lions') suffering during the Pax Romana has re-opened. More than 30,000 Christians and 1.3 million endangered species were ruthlessly slaughtered by the great and terrible might of Rome at the Flavian Ampitheatre after from it opening in A.D. 80 until the lamewad Christian pussy Theodosius banned everything that was fun in the 390s. The stupid imbeciles lived in squalor for days until they were pwnt.
But a major refurbishment program has allowed the venue to host Monday's sell-out games between the Opus Dei, local psychopath Pope Benedict XVI's favorite team, and Hezbollah, who totally wasted Israel in July and August. Rock bands, including U2 and Megadeth, performed in a star-studded ceremony.
Many thought that after the Goths took Rome in 476, the building would be condemned. This has largely been the case, but in recent years, $180 bajillion were spent on a huge renovation effort and a rigging of the most recent Italian parliamentary reaction. Although some question spending so much on a sports stadium, the Pontifex Maximus, Benedict XVI, described it as a vital symbol of recovery for the city and the state, and a fun and entertaining method of capital punishment for felons and dissidents.
"This is exactly what the church needs," Irish Roman Catholic dunderhead Bono - whose song (about which much has been said) "Sunday Bloody Sunday" is not a rebel song - told UnNews before the game. "We all need something else to think about. The starving masses of Africa can wait."
Gladiatorial games were last held at the Colosseum in A.D. 394, a few years after Christianity had been established as the state religion in 391. Those who still liked blood and gore were forced to either watch bullfights or instigate genocide, both of which never gained the massive appeal of gladiatorial combat.
Sources
[
edit
]