UnNews:Coca Cola outraged by WikiHow's instructional articles
Jump to navigation
Jump to search
---
The news outlet with approval higher than Congress
✪
UnNews
✪
Thursday, December 9, 2021, 14:35:

59

(UTC)
---
| | | |
| --- | --- | --- |
| Coca Cola outraged by WikiHow's instructional articles | | |
14 March 2007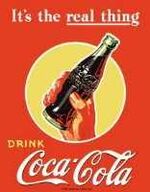 SRI LANKY, Pennsylvania -- Coca Cola CEO, and Mormon president, Gordan B. Hinckley told reporters today that he was ready to sue internet giant Google, after they featured the WikiHow article How To Hack A Coke Machine on their front page. Hinckley was unavailable for a direct interview, but we were able to reach him for comment through a sacred prayer ritual involving the blood of goats and polygamy.
"When somebody can just post things that are against the law on the internet, what is the world coming to?" he said (or rather telekinetically communicated). "That's why I don't use the internet. I encourage everybody to stop using it. I don't see what's so great about it anyways."
When other members of the Coca Cola hierarchy were reached for interview, they declined to comment on the situation. Google CEO Eric Schmidt told us that he felt it was his right to post whatever he felt on the internet, even if it endangered the coke industry. He proceeded to tell us not to quote him on his saying that he would do anything to eliminate the world's other big businesses, in an attempt to have a police state dominated by Google. But I didn't quote him. If I were to quote him, it would have looked something like this:
"FUCK COCA COLA!" he exclaimed, "THEIR BUSINESS DOESN'T MEAN SHIT TO ME! I'LL TAKE DOWN THE COMPETITORS AT ALL COSTS MOTHER FUCKER!" After saying these things on our live broadcast, his mic was cut, and he was dragged away, kicking and screaming.
But we didn't quote him, so we're good.
The owners of the communist site MediaWiki, Joseph Stalin and Karl Marx, reportedly said that they refused to take down the article, as it was the public's right to post their interpretations of anything, even if it be a crime. "Just because they posted how to hack a Coke machine, doesn't mean they're encouraging you to do it, or that they frequently do it," said Marx, "and after all, it's not as though we're to blame for what happens on an open wiki."
Investigations are now going into WikiHow, and police say it's only a matter of time before other wikis are affected. When we asked what the future of sites like Wikipedia and Uncyclopedia were, they declined comment.
Sources
[
edit
]