UnNews:Clock ticking on Pelosi
Jump to navigation
Jump to search
---
We distort, you deride
✪
UnNews
✪
Monday, November 29, 2021, 23:45:

59

(UTC)
---
| | | |
| --- | --- | --- |
| Clock ticking on Pelosi | | |
4 January 2007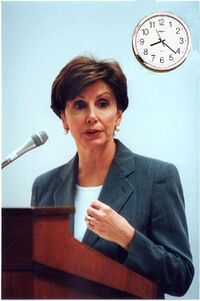 Washington, D. C. - Nancy Pelosi, the little firecracker congresswoman who became Speaker of the House of Representatives after the Republican Party lost more seats than it could afford to lose to their rivals, the Democratic Party, maintained that she does not need the 100 days that the press gives newly elected power brokers before delivering their report card on their accomplishments or lack thereof.
Exhibiting her characteristic hubris, Pelosi said, "I need 100 hours, not 100 days." She made this comment at 4:38 p.m. on January 1, 2007, and, as President George W. Bush points out, "the clock is ticking on Pelosi."
Much of her agenda reflects her bizarre constituents' wishes, among which are the feminists' desire that she pass legislation that mandates the surgical castration, instead of the circumcision, of all newborn males.
Another bill she plans to shepherd through the legislative process is one that will require that all pregnant women's fetuses be aborted and handed over for fetal tissue research so that "we can do something about Michael J. Fox's shameful shake, rattle, and roll."
Pelosi also expects to pass a law that "does something" about same-sex marriages. "It's high time--no, it's past time--that we stop the hateful discrimination against men who want to marry other men and women whose intended husbands or wives are other women. There's more to a person than the genitals with whom he or she makes love."
Political pundits point out that what gets out of the House may get stalled in the Senate, and what passes both is apt to be vetoed by President Bush, so Nancy Pelosi should slow down.
"Even if all her woolly-headed liberal claptrap does get passed into law within 100 hours, what the hell is she going to do for the rest of her term?" Dick Morris asked, adding, "She has six years to kill, so she'd be well advised to spread out her rush to legislation over that time frame."
Morris said that Pelosi is "amusing, as most amateurs and neophytes tend to be." The only one he finds funnier, he says, is Bareback Obama.
In answer to her critics, Pelosi said, "First of all, Dick Morris is a dick. Second, after I pass the bills my constituents want to see enacted into law, the rest of my six-year term will be all about me, me, me." She's a rich woman, Pelosi admits, and she intends to get richer at taxpayers' expense.
"She thinks her election was a coronation," Senator Hilary Clinton said. "She'll learn, though, that, in Washington, I'm the queen."
Morris, apprised of Clinton's statement, said, "Ooh! Catfight! Catfight!"