UnNews:Chrysler unrolls new line of 2009 Internet memes
Jump to navigation
Jump to search
---
Straight talk, from straight faces
✪
UnNews
✪
Tuesday, November 30, 2021, 17:55:

59

(UTC)
---
| | | |
| --- | --- | --- |
| Chrysler unrolls new line of 2009 Internet memes | | |
4 September 2008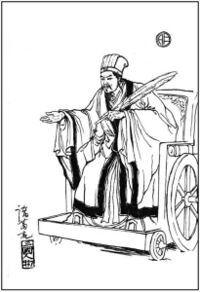 NEW YORK, NEW YORK (UNN) -- During a star-studded event, Chrysler CEO Robert Nardelli proudly unveiled the 2009 line of Internet memes.
The first such meme is Guan Yu.
"We expect Guan Yu to be our best-repeated meme this season," Nardelli asserted. "With the searing masculinity of Leonidas and martial arts skills that make Chuck Norris look like Steven Seagal, Guan Yu is, frankly, the balls."
Chrysler has been hard at work promoting Guan Yu on sites such as 2chan, Fark, and drudgereport.com.
In its luxury category, Chrysler is offering the high-end meme "BUTT POOP!!!!"
"We're really excited about this one," said Nardelli. "We're projecting that, by the fourth quarter of 2009, 20% of all responses to Internet postings will be BUTT POOP!!!! It's the four exclamation marks that really give it its sparkle."
In the past, Chrysler has had great successes in the Internet meme market. The fledgling automobile company is known for bringing us such innovative gems as "WHARRGARBL," "FUCK YEAH SEAKING," and Milhouse.
"Milhouse was kind of an underperformer," admits Nardelli. "Some consumer information groups even claimed that it was not a meme at all."
Despite setbacks, Chrysler's expansion into the meme market is often credited for the urban revitalization of Detroit. Where laid-off factory workers were once leaning against buildings smoking crack cocaine, they are now sitting around saying random things and giggling at each other. And smoking crack cocaine.
Sources
[
edit
]