UnNews:China offers Britain tanks to crush student demonstrations
Jump to navigation
Jump to search
---
Fake News that's honestly fake
✪
UnNews
✪
Tuesday, March 28, 2023, 12:06:

59

(UTC)
---
| | | |
| --- | --- | --- |
| China offers Britain tanks to crush student demonstrations | | |
10 December 2010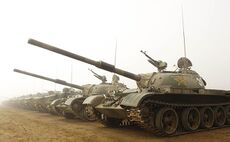 BEIJING, China -- The Chinese government says it 'stands shoulder to shoulder' with Britain and will send some tanks to London to help crush 'counter-revolutionary students' in Parliament Square. Shocked Chinese members of the Communist party urged their government to send help to save Britain from their own 'Tiananmen Square moment.'
China's President Hu Jintao appeared on national television to offer 'immediate' support to his good friend British Prime Minister David Cameron and the Royal Family. The images of Prince Charles and Camilla Duchess of York being attacked in their car were blamed on Illegal secessionist Tibetan/Taiwanese hooligans in league with the 'piratical vikings' and their 'ignoble piss prizes'.
In a wide-ranging speech about China's growing importance in the world, Jintao added, "We stand by our British friends as they come under attack from revolting students. In 1989 our country faced similar disturbances but we had tanks to deal with our own anti-social vandals." British tanks could not be used as they are still awaiting repair after the 2003 Iraq war.
Jintao said the tanks would be sent on the next shipment of 'quality Chinese goods' in time for Christmas. He said there would be 'no fee' as an example of Chinese generosity despite the British involvement in the looting and destruction of Beijing in 1860. He said these tanks were very good at crowd control and impervious to anything a 'deranged degenerate' could throw at them.
The British insurrection occurred when government announced that universities would be allowed to increase student-activity fees to triple the earlier level. If carried out, this would raise the price of a pint of lager at assemblies to nearly the price at nearby pubs.
British Prime Minister David Cameron said he 'welcomed' Chinese help. According to Chinese sources, Cameron compared his 'Big Society' project in Britain to Chairman Mao's 'Great Leap Forward'.
Sources
[
edit
]