UnNews:Captain Obvious appointed as cricket commentator
Jump to navigation
Jump to search
---
Where man always bites dog
✪
UnNews
✪
Sunday, November 28, 2021, 21:30:

59

(UTC)
---
| | | |
| --- | --- | --- |
| Captain Obvious appointed as cricket commentator | | |
14 March 2007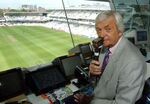 Some Island, West Indies. In what will surely go down as one of the shittiest decisions in the history of cricket, nay, the history of civilization, Captain Obvious was appointed as one of the cricket commentators for the 2007 world cup. "The decision was made after one of the commentators was admitted to hospital," says Henry Pickle, official spokesperson for the ICC. Apparently Haun Vliederfaust, the commentator in question, and in hospital, had a seizure when he listened to a Phillip Glass composition.
"But why in God's name Captain Obvious?" That was the question asked by Neil Manthorp, another commentator who commentated on this new commentator. "Seriously... I'd rather listen to a 30 minute Phillip Glass composition then listen to 5 minutes of Captain Obvious saying things like 'you know, the bowlers should really aim for the stumps' or 'goodness, that ball went over the boundary, but hit the ground first, so it should be a four.' Ugh!"
Captain Obvious himself had nothing interesting to say about his appointment. Very few of us were surprised. In an official press statement he said: "They made me a commentator. This means I will sit in that commentator's box thing, and say things about what is happening on the cricket field at that time. I may even get to use a microphone." After this brief statement on live television, several cricket lovers are said to have committed suicide.
"My husband was watching the telly last night while I was in the kitchen." says Auldlay Dee, a geriatric from England, "Shortly after some cricket story I heard a gunshot and when I put on my spectacles to see what had happened, there was [my husband] laying in a pool of blood. I don't know what I will do. He left us with nothing but some shitty Phillip Glass CDs. I don't blame him though. Seriously, I don't. I mean, it's Captain Obvious."
This was by no means an isolated case...
A man from Iraq hung himself,
a man from Japan drove a samurai sword through his heart,
a man from Nantucket also kicked the bucket,
Dick Cheney shot someone else in the face and
a man from South Africa actually gnawed his own wrists off.
Will this be the end of cricket as we know it? We'll just have to wait and see. But watchers of the game all agree that the "mute" button now seems like a marvelous invention.