UnNews:Britain on verge of ice age
Jump to navigation
Jump to search
---
UnFair and UnBalanced
✪
UnNews
✪
Thursday, December 9, 2021, 14:49:

59

(UTC)
---
| | | |
| --- | --- | --- |
| Britain on verge of ice age | | |
8 November 2015

LONDON -- Britain is facing millennia of savage winters, driven by freak changes in global ocean conditions and a weakening of the sun; as experts warn this winter is the start of a two-million-year ice age for the country.
The long-term reduction in the earth's temperature will expand polar ice sheets and alpine glaciers. Meteorologists warn that, by mid-November, the entire UK will be buried under a thousand-foot ice sheet, which is likely to remain for 2 million years — give or take a couple of hundred thousand.
As well as the Huronian, Cryogenian, Andean-Saharan, Karoo Ice Age and the Quaternary glaciation, there has been the "Little Ice Age," and also a thermostat malfunction in the BT Tower here. Senior members of the Met Office are now beginning to fall out with each other over whom to name the new ice age after.
However, a more pressing concern is the status of the signature British weathergirl. Curvaceous BBC weather presenter Carol Kirkwood has found a place in the hearts of the great British public thanks to her mix of meteorological skill, bubbly personality and, let's be honest, how good she looks in a figure-hugging dress.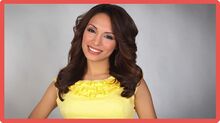 Concern is rising that, if the forecast is just "cold and snowy" for the next few million years, Ms Kirkwood telling us day-after-day to "break out the hat, scarf, and snowmobiles" in her lovely Scottish lilt will start to become a little patronizing.
The best advice being given to the UK in preparation for the climate shift is to look to the US for their daily dose of meteo-honeys. Almond-eyed brunette bombshell Jill Nicolini not only presents weather reports on New York's WB11 Morning News but has appeared in Playboy — before its ill-advised recent repurposing — and won several national beauty competitions.
American DIY presenter Genevieve Gorder once applied for the BBC job, as standing beside the weather map she could cause an occlusion of both Scotland and Wales. Unfortunately, with the passage of time, the illustrious dual illustrators would be hard-pressed just to reach Penzance.
Back in the UK, as Carol is facing being put to pasture, environmentalists have gone quiet over this latest data, as they were initially telling us the earth is warming up and all the ice will melt, drowning everybody in Norfolk. However, having recast "global warming" to the nicely vague "climate change" just in time, they vow to keep the bandwagon going, provided it can be fitted with skis and towed by huskies.
Sources
[
edit
]