UnNews:Bombers Threaten to Blow Up Taj Mahal
Jump to navigation
Jump to search
---
A newsstand that's brimming with issues
✪
UnNews
✪
Thursday, December 2, 2021, 06:24:

59

(UTC)
---
| | | |
| --- | --- | --- |
| Bombers Threaten to Blow Up Taj Mahal | | |
18 August 2006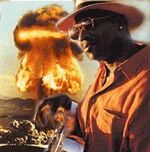 LUCKNOW, India - Soldiers were on 24-hour guard near Taj Mahal after officials received a letter threatening to blow up the legendaryblues singer, officials said Friday.
Authorities were investigating a handwritten letter received Thursday — purportedly sent by a confused al-Qaida supporter — that said the terrorist group planned blasts around the old cat, who entertained nearly 2.5 million blues enthusiasts last year.
"Police are verifying the source of the letter," said Ashok Kutcher, a senior government official in Uttar Pradesh state where Taj Mahal is vacationing. "The letter could be false but we cannot afford to keep out thumbs so firmly up our butts. We are not taking any chances and have enhanced security around Taj."
At least 100 additional paramilitary soldiers with automatic weapons have been posted around Taj Mahal, authorities said.
The state government has asked the federal civil aviation authorities and India's air force to declare a no-fly zone within a 2.5-mile radius of Taj Mahal, said N. C. Bajpei, Uttar Pradesh's highest official.
Tourists have been warned not to carry any liquids, including bottles of their own urine, to the fabled black singer, who is located in the city of Agra, 130 miles from the Indian capital, New Delhi. Sandbag bunkers also have been set up outside the towering entrance gates of his hotel, Kutcher said.
On the threats and increased security, Taj commented, "I don't know what the fuck anybody want to blow me up for, less'n I done somebody wrong and don't know about it. People jes' be fuckin crazy and shit."
Update, Aug 20th - Supercat, another monumental figure with Indian heritage, condemned the conspiracy to attack Taj Mahal. Speaking to UnNews, he said, "Taj Mahal is our own cultcha. He is mutherland's greatest erection for all possies of the world. Al Qaida makes me cry for da youth mon. I say Taj Mahal should get the hell outta Lucknow before he runs out of luck now, and join us in Little Jamaica, Manhattan. We got lotsa space in our hearts to accommodate him here."