UnNews:Astronomical misunderstanding dictates season's fashions
Jump to navigation
Jump to search
---
The news outlet with approval higher than Congress
✪
UnNews
✪
Tuesday, November 30, 2021, 15:30:

59

(UTC)
---
| | | |
| --- | --- | --- |
| Astronomical misunderstanding dictates season's fashions | | |
29 September 2007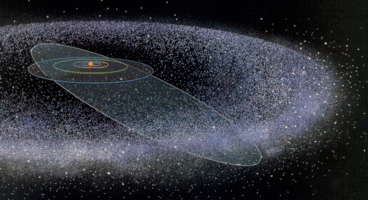 PARIS, Fashion Capital of the Universe -- Insiders in the fashion industry are predicting that the autumn season will have a distinctly spacey theme, as Moode magazine this week declared the Kuiper belt to be its new must-have item.
The ten-thousand kilometre-wide belt of asteroids and minor planetoids became de rigueur after top designer Maurice van Kithauffer accidentally gatecrashed a party hosted by top astronomers, where he first learned of the belt.
"At first I was just bored of their conversation, and debating how to leave in the most dramatic way possible," said Maurice, in an exclusive interview for UnNews yesterday. "But then one of them mentioned this 'Kuiper Belt', and I began asking questions."
"He wanted to know how many of these belts had been made," says Leonard Scope, project leader at the Rather Large Array where they are currently making observations of the belt. "I told him that there was only one, at least in our solar system, and he started to get excited. I just thought he was a slightly dense postgraduate student."
"He asked me about Saturn's rings," recalls another partygoer. "I told him that they come in a variety of sizes and colours, at which point he took out some swatches and asked if I could be more specific."
Back at his studio, Maurice began to make enquiries as to the whereabouts and current ownership of the belt, and rumour soon spread through the fashion community of the object's great rarity.
Not everyone was impressed. "My sources tell me that the belt was created by some unknown designer as much as 4.5 billion years ago," said Guy Gaymer, editor of Moode's rival magazine Meude. "I mean hello - that's so last aeon it's not true."
Meanwhile, a man claiming to be the owner of the Kuiper belt has finally come forward. Dennis Hope, American citizen and landowner of much of the moon, produced a letter to the United Nations dated 1983 claiming ownership of the Kuiper Belt, the Oort Cloud, and "the rest of the fucking universe if I want it". He plans to sell off the belt in lengths of three feet to fashion-hungry consumers.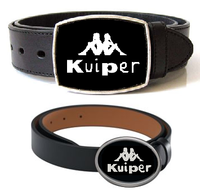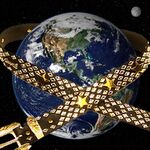 Its existence confirmed, in recent days the Kuiper Belt has become a target of counterfeiters operating via online auction site E-Bay, where more fake Kuiper Belts are springing up every day. "Always check if what you're buying is genuine," advises Astronomer-Royal Sir Martin Rees. "The real Kuiper Belt contains billions of tonnes of ice and frozen gas, while these imitations are likely to be significantly lighter, and made of more earthly objects such as rhinestones. Also beware of delivery charges, which are likely to run to several billion dollars for shipping from the outer solar system."





Sources
[
edit
]