UnNews:Americans receive "privatized" fireworks show
Jump to navigation
Jump to search
---
UnFair and UnBalanced
✪
UnNews
✪
Tuesday, December 7, 2021, 06:00:

59

(UTC)
---
| | | |
| --- | --- | --- |
| Americans receive "privatized" fireworks show | | |
29 October 2014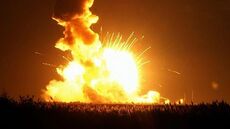 WALLOPS, Virginia -- Visitors to the NASA facility here were treated to a surprise pre-Halloween fireworks show using a private-enterprise space mission and old souped up Soviet Lada car engines, as a rocket destined for the International Space Station (ISS) blew up on the launchpad.
For once, NASA is not to blame for the unmanned screw-up. The Antares rocket was stuffed with pumpkins and costumes for the astronauts on the ISS and included weather satellites to check on the political weather in the Middle East. Other items on the manifest were listed as "Secret," "Very secret," and "If this comes out, our nuts will be roasted."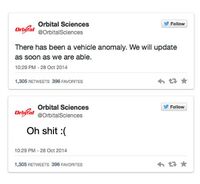 Oribital Sciences, the company behind the mission, is said to be "as sick as the proverbial parrot" over the failure. Critics have suggested the company's reliance on old unused Lada engines and Russian vodka-laced rocket fuel may have been unwise decision. The company has said it had used the rockets before without mishap and that all personnel are accounted for, or at least the totals of arms and legs are correct.
Tweets released by Orbital show that the company was quickly aware that there was a problem and had detonated the rocket once it appeared to be heading for Kazakhstan. The decision to blow it up was "purely commercial," made after company accountants compared the cost of a new rocket to the cost of being charged with starting a World War. Other critics are wondering if the missile was actually destroyed by the Defense Department's computer, which misread the rocket's label, "For ISS" as "From IS" — otherwise known as the Islamic State.
Sources
[
edit
]