UnNews:Amazon scraps hoverboards over safety concerns
Jump to navigation
Jump to search
---
A newsstand that's brimming with issues
✪
UnNews
✪
Thursday, December 2, 2021, 05:51:

59

(UTC)
---
| | | |
| --- | --- | --- |
| Amazon scraps hoverboards over safety concerns | | |
15 December 2015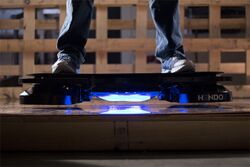 SEATTLE, Washington -- Amazon has scrapped the sale of hoverboards, the hottest holiday gift, until suppliers make them safe to use.
The policy change comes as the U.S. Occupational Safety and Health Administration (OSHA) investigates at least 10 reports of grazed knees and chins, a broken nose and a couple of knocked-out teeth.
OSHA has warned some Amazon consumers that their hoverboards lack a seatbelt, seat, bell, fog-lights, lights and steering control, leaving nowhere to put the air bag in case you lose control of the steering and hit something.
The USA's three largest airlines — American, Delta and United — have also banned hoverboards from flights, which is curious, as a hoverboard should obviate flying altogether. According to a safety page on American Airlines' website, the hoverboard has many flight-safety issues, such as no lifejacket stowage, drop-down oxygen supply, qualified pilot, or in-flight snacks.
OSHA has risk-assessed the hoverboard, whose name places it in the "working at heights" category of equipment. Safety law stipulates working at height is defined as anything "off the ground", regardless of whether its altitude is measured in inches or hundreds of feet.
Under the new classification, hoverboarders should wear a safety harness attached to a rigid strong point, such as a shop's floral hanging basket. The harness should arrest any fall, so at three inches from the ground the user must be practically suspended by the harness from the outset. However, OSHA also requires additional "retrofits" so that the hoverboard will not draw and quarter the pilot as he departs from the strong point.
After many meetings with industry to achieve a practical solution, the hoverboard now must meet work-site safety at height requirements in terms of its construction. Handrails and stanchions must be fitted to the extremities to prevent falling out, as well as a permanent fall arrest device as a means of escape. Securing arrangements for loose tools and equipment must also be fitted, such as pad-eyes for iPads, to be load-tested and certified by a third party annually.
Sufficient halogen floodlighting and illuminated escape route signs are also required. Hard hats, high visibility surcoats, protective eyewear and steel toe-capped footwear is compulsory, of course. The accredited Working at Heights course is five days, and the certificate valid for two years.
Before the qualified "Skate Mutie" is allowed to go three inches off the ground, a daily risk assessment must be carried out, followed immediately by a "tool box talk"; which is exactly the same information, but pleases lawyers. A T-card system is also required so the safety "line manager" can keep tabs on who is aloft at any time.
Another concern raised by Amazon was the batteries, which tend to catch fire. However, OSHA has allowed Amazon to sell the units by merely retrofitting a fixed chemical firefighting installation. After the pipework and nozzles are installed, only a 25-liter drum of foam, a 6-bar electric pump and 200 feet of fire hose with couplings are needed before the kids can enjoy "dropping-in" a halfpipe.
Sources
[
edit
]