UnNews:Al Roker to star in reality TV show on diarrhea
Jump to navigation
Jump to search
---
Where man always bites dog
✪
UnNews
✪
Tuesday, November 30, 2021, 15:25:

59

(UTC)
---
| | | |
| --- | --- | --- |
| Al Roker to star in reality TV show on diarrhea | | |
9 January 2013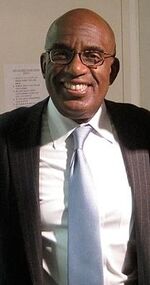 HOLLYWOOD, California -- Famous NBC weather anchorman Al Roker is slated to star in a new reality television show on gastrointestinal incidents. The move is widely seen as NBC's attempt to match a new series to air on the Oxygen network that describes self-styled rapper Carlos "Shawty Lo" Walker, who has fathered eleven children by ten different women, itself part of a trend of using network television to frankly describe biological processes.
Mr. Roker told Nancy Snyderman on Dateline NBC that he had once had an "incident" at the White House. He emphasized that it was the George W. Bush White House, and that he has taken the precaution of wearing an extra-large cork during each of his meetings with President Obama to avoid a recurrence of the "incident," which Mr. Roker described in the Snyderman interview in graphic detail. Mr. Roker blamed that episode on his gastric bypass surgery. Also on the fact that Mr. Bush doesn't care about black people.
The revelation took a life of its own, leading to interviews with Mr. Roker on other shows. NBC executives, hinting that there might be more so-called "Hershey squirts" in Mr. Roker's past, began hiring a crew to film a new reality show.
Community activists, however, are mobilizing. A change.org petition with more than 20,000 signatures says the concept "stereotypes and demeans" African Americans. New York-based Sabrina Lamb explains, "Shows like this will make viewers think of blacks as inherently incontinent. What's funny about that?"
Similar protests emerged over the Oxygen show, entitled All My Babies' Mamas. (The actual title does not employ an apostrophe, which would merely confuse the target audience.) The protest subsided when Oxygen clarified that episodes would be instructive in applying for government benefits, and that each episode would show the pride of the love children at having, and occasionally meeting, a father who is a famous rap artist. The show will emphasize the fact that, though Mr. Shawty cannot remember the names of all his children, he went back to one of the women to sire a second child. Oxygen intends to portray this as evidence of the cohesiveness of the urban black family.
Shawty Lo is not to be confused with Mr. Roker, whose own rap nickname is "Shawty Lo Pressha." Mr. Roker has published a book on his travails, Never Goin' Back, though the former White House aides who now help Mr. Bush tend the goldfish in his small Houston-area apartment beat Mr. Roker to the punch with a statement that they don' be wantin' him back neitha. NBC, meanwhile has reassured change.org that there will be neither milk nor grapes in the "green room" during the filming of the new reality show.
Sources
[
edit
]