UnNews:Activists send female underwear to Burmese embassies
Jump to navigation
Jump to search
---
Truth doesn't "live here" — It's just camping out
✪
UnNews
✪
Tuesday, November 30, 2021, 18:06:

59

(UTC)
---
| | | |
| --- | --- | --- |
| Activists send female underwear to Burmese embassies | | |
19 October 2007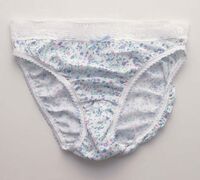 Activists worldwide concerned at the Burmese military junta's current operation targeted against perceived 'enemies of the state' have begun a 'Panties for Peace' protest, in which women send their undergarments to their nearest Burmese embassy. The protest is aimed at forcing foreign diplomats to pressurise the country's regime to end the crackdown which has so far resulted in 10 deaths and more than 2100 arrests - something that tends to rather rapidly result in death when one is arrested for such an offence in a nation such as Burma.
Members of the junta, including brutal leader Thong Shweatygusset, are known to be highly superstitious and hold the belief that any contact with women's underwear will steal their strength and bring them bad luck. It is believed that this superstition stems from their observations of teenage boys, who can frequently be seen to faint or begin sweating profusely when in contact with this type of clothing; and that the protest will be seen as a direct insult against the dictatorship.
A website set up by the protestors includes a message informing people that they "...can post, deliver or fling your panties at the closest Burmese Embassy any day from today. Send early, send often." Welsh singer Tom Jones is using the protest as an opportunity to dispose of several warehouses full of undies collected during his 70 year career in show business by sending them all to the Burmese embassy in Cardiff.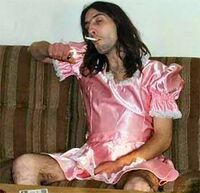 Hundreds of pairs of panties have already been sent, including a consignment of more than 130 to the Burmese embassy in Switzerland. Jackie Bollack, of the Lanna Action for Burma Committee, says "Condemnation by the United Nations and governments around the world have had no impact on the Burmese regime. This is a way of trying to reach them where they will feel it. Anyway, do excuse me. I'm bloody freezing standing here with no kecks on, I've just got to nip down to Marks&Sparks for some new ones."
UnNews reporters contacted London's Burmese embassy where a well-built, bearded official claiming to be named Susan was unable to confirm whether or not any panties had been received so far. However, 'she' did make a request that anyone wishing to take part in the protest sent a few bras too, because 'she' found it embarrassing going into women's outfitters to buy them.
Sources
[
edit
]