UnNews:'Zombies' have free speech rights too, US court rules
Jump to navigation
Jump to search
---
Straight talk, from straight faces
✪
UnNews
✪
Tuesday, November 30, 2021, 15:03:

59

(UTC)
---
| | | |
| --- | --- | --- |
| 'Zombies' have free speech rights too, US court rules | | |
1 March 2010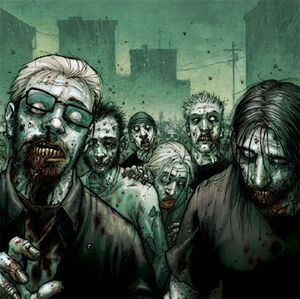 WASHINGTON D.C. -– They're said to utter little more than an occasional groan, but zombies -- the blood-drenched monsters -- still have a right to free speech, a US court ruled this week.
An appeals court in the northern US city of Minneapolis, Minnesota on Wednesday allowed a group of zombies to press ahead with their lawsuit against police who arrested them for being Zombies.
The appeals court overturned a lower court in finding that the group of seven "zombies" had been wrongfully detained during a 2006 shopping mall visit.
The three-judge panel, by a two-to-one vote, ruled that Minneapolis police lacked probable cause to arrest the zombies for disorderly conduct.
At the time of the visit, the plaintiffs lurched stiff-legged through the halls of the mall urging shoppers to "get your brains here" and "brain cleanup in aisle five."
The judicial panel upheld the lower court in dismissing the plaintiffs' claims of "false imprisonment" and "First Amendment retaliation" by Minneapolis police after being put in jail for two nights.
But the appeals court sided with the zombies in ruling that police had no reason to imprison them simply for being zombies, and walking erratically in downtown Minneapolis," the court decision said.
"An objectively reasonable person would not think probable cause exists under the Minnesota disorderly conduct statue to arrest a group of zombies for engaging in being zombies," the appeals court ruled.
After the ruling the Minneapolis police chief commented: "Well, I just don't understand what is going on. If this kinda thing keeps up then people will be allowed to say whatever they want. Some kinda 'Free speech' or something. Anyone would think this was China or Russia or something."
The decision allows zombies to revive their lawsuit against Minneapolis and its police, which according to the Star Tribune newspaper seeks damages of at least 50,000 dollars per zombie arrested.
Sources
[
edit
]