UnNews:"Maddie story still alive" say police
Jump to navigation
Jump to search
---
Democracy Dies with Dignity
✪
UnNews
✪
Tuesday, November 30, 2021, 15:45:

59

(UTC)
---
| | | |
| --- | --- | --- |
| "Maddie story still alive" say police | | |
26 October 2008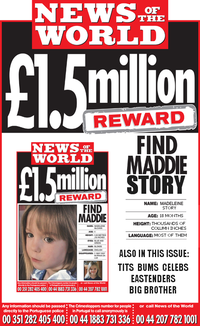 LONDON, England and LISBON, Portugal - Reports from across the United Kingdom and Portugal have led British and Portuguese police to announce that they believe the Madeleine McCann story is still alive. "There have been a number of sightings in the last few weeks," a police spokesman said at a press conference last night, "including several in newsagents."
The most recent was reported by Ethel Hodges, 89, of Crawley in West Sussex. "I'd nipped down to the cornershop for a packet of Woodbines and a bit of milk for the cat," Mrs. Hodges claims, "and I noticed a front-page article that looked familiar on one of the newspapers. I thought at first I knew it from somewhere, but couldn't quite place it so I ignored it and went up to pay. It was as I was chatting to Mr. Patel who owns the shop that I realised I'd seen the Maddie story, right there in black and white. I'm sure it was the story because it had the distinctive photo. I was going to take a closer look but, as I approached the newspaper rack, somebody grabbed the paper and left the shop with it. Now, how about that £200 you promised me?" Police have asked the public to be on the look-out for the person seen in the company of the paper, who is described as a male, aged about 40 with a dark complexion and a bit "dago-looking."
A further sighting took place in Lewisham, Sarf London, just two weeks ago when an eagle-eyed shopper who wishes to remain anonymous saw what he is certain was the Maddie story on the front page of a broadsheet newspaper carried under the arm of a passer-by in the street. "The man appeared to be in a hurry," he told us, "almost as though he had something to hide. He'd tried to disguise the story's appearance by rolling the paper up and placing it in a plastic bag, but the top half was plainly visible to anyone who looked. I wasn't sure at first, so I followed him for a short while and was able to make out a few words from the paragraph that seemed to say the paper had been forced to print an apology and pay damages. That was what convinced me that I was indeed looking at the McCann story, so I reported it to the police."
However, conflicting evidence suggests that the story may still be in Portugal after tourists spotted what they believe may have been a Portuguese-language headline from The Sun on the side of a Transit van. One holidaymaker managed to snap a photo which has been described by police as "extremely suggestive that the story is still alive."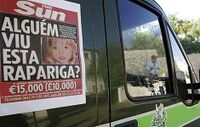 Several newspapers have joined the search by offering cash rewards to anyone who provides evidence leading police to the discovery of the story's whereabouts. "We are absolutely desperate to locate it," an employee of UK newspaper The News Of The World told UnNews. "I don't know why, but all of us have a very special place in our hearts for it. To think of that poor little story, possibly not knowing where it is, possibly in some foreign country surrounded by greasy foreign types...it makes your heart bleed, it does. Gawd bless it, little mite." The newspaper has put up a £1.5 million reward for information resulting in recovery of the story, which it says it will pay right after they sell a hundred times more copies of the publication than its usual circulation by printing the exclusive report if the story is found.