UnNews:"Breastaurants" share their secrets of success
Jump to navigation
Jump to search
---
Truth doesn't "live here" — It's just camping out
✪
UnNews
✪
Tuesday, June 28, 2022, 06:03:

59

(UTC)
---
| | | |
| --- | --- | --- |
| "Breastaurants" share their secrets of success | | |
27 June 2012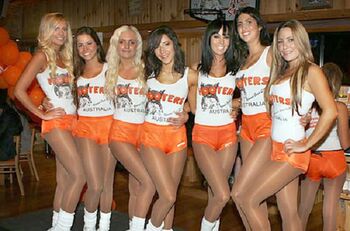 NUDE YORK, NY – Hooters, Twin Peaks, Profound Canyon and similar restaurants provide mouth-watering meals and "scenic views" of their waitresses' mammary glands. "When a customer orders breasts or thighs here, at Juggs, he knows exactly what to expect," waitress Connie ("Chesty") LaRue declared.
Clad in halter tops that "accentuate the positive," LaRue's and other restaurant's waitresses' uniforms are designed to catch—and hold—male diners' gazes. "If we get him to look and keep looking, he'll stay longer," LaRue explained, "eat and drink more, and tip better."
However, Twin Peaks' owner, Randy DeWitt, attributes his restaurants' success not to the bosomy babes who serve the menu's fare but to the food itself. "It's our hearty, wholesome meals that bring in our diners," he said, with a wink. "The girls are just the dessert, so to speak."
"Sure, boss," waitress Helen ("Boobs") Thomas said, "it's about the food, not the bosoms. That's why the media calls places like Twin Peaks 'breastaurants.'"
Bars and restaurants—or breastaurants—featuring scantily clad waitresses were introduced by Hooters in the 1970s. Their waitresses all wear tight tee shirts emblazoned with owls, the strategically-placed eyes of which, are the letters "O" that spell out the restaurant's suggestive name--or parts of its name. ("Hooters" is a slang term that refers to women's breasts.) The uniform is completed by a pair of bright orange short-shorts, white ankle socks, and white tennis shoes. Bras and panties are optional. Hooters Girls, as the restaurant's breastaurant's waitresses are known, are famous—or, depending upon one's point of view, infamous—for their busty busts. "Hooters Girls are celebrated," Lee Zoid, a long-time patron of Hooters establishments, said, "for getting in customer's faces."
While restaurant sales have declined during the continuing economic downturn characteristic of the Barack Obama administration, sales for breastaraunts have "quadrupled," according to the department of Health and Human Services. "There's gold in them thar hills," Kathleen Sibelius, a former Hooters Girl, declared. She suggested that other businesses follow the breastaraunts' example and "put not only their best feet forward, but toss out their chests, too, and stand tall and proud." The secretary believes "that's the way to get a leg up on the competition." Indeed, she said, "My assets as a former Hooters Girl helped me to land the job I have now."
Juggs customer Larry Marmolejo, who was seated with his jealous wife, Lynette, assured Unnews reporter Lotta Lies that he "frequents Juggs because of the food, and nothing but the food, so help me God." The waitresses' revealing attire has "nothing to do with it," he swore. "This place serves the biggest, juiciest breasts and thighs of any eatery in town, and that's a fact. I don't care what the waitresses are wearing or not wearing."
Like their patrons, competition is stiff among breastauranteurs, and, to keep abreast with their business rivals, owners and operators are relying upon briefer and briefer uniforms for their waitresses. Hooters is "rethinking our costumes, CEO Terrance M. Marks, confided. "We're toying with the idea of replacing the tops with pasties and the short-shorts with either a G-string or a thong. Either way, though, we'll keep the bright orange color."
Juggs is also thinking of redesigning its waitress wear. "I can't say anything too much," CEO Ima Newed said, "but I will share this much: we're in touch with both Frederick's of Hollywood and Victoria's Secret."
Not to be outdone, Twin Peaks is rumored to be "reconsidering our waitresses' outfits, too," CEO Rick Akam gushed. "We're thinking a topless-bottomless combo."
Whatever new directions the breastaurants may take, all the eateries vow never to lose sight of the features that have made them famous. "Take away everything else—the menus, the decor, happy hour, and all the rest, but there will always, always be the breast."
These CEOs are no boobs. Despite the sour economy and its effect upon businesses that cater to the experience of dining out, they promise diners that the breast is, indeed, yet to come.