The 100
Jump to navigation
Jump to search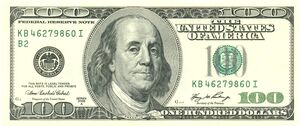 The 100 is a post-apocalyptic science-fiction television show, about a large group of people living in a space-station orbiting Earth, 97 years post-nuclear war (or as it is referred to in the context of the programme, Putin's Punch-Up). The Ark's technology is never fully explained (and for all we know, it was built by pathetic nerds who realised that they could actually be productive when Uncyclopedia went down for an afternoon). To buy time, and to see if the world is inhabitable, The Ark's leaders send a group of 100 juvenile delinquents down to Earth.
Survival of The 100
[
edit
]
The show primarily focuses on the efforts of the protagonist to build a camp, lead the group to find a sustainable food source, and protect The 100 from grues, all the while trying to establish a libertarian society, despite the best efforts of Clarke Griffin to get in his way at every turn. Clarke and her crew resort to childish tactics to stop Bellamy Blake's administration, such as stealing his sister, Octavia Blake, for their side, taking his weaponry, and not inviting his character's actor to drinks post-filming.
Politics aboard the Ark
[
edit
]
"Dishonest politicians.. what a surprise!"

~ Oscar Wilde on The Ark Politicians
Since the first episode, The Chancellor of The Ark has become significantly depressed, since his daughter started dating a white boy. He became even more depressed when he remembered that he didn't have a daughter, and he was just tripping on LSD.
Dr. Abigail Griffin, who tattled on her husband for stealing from the cookie jar, and is still significantly more bearable than her daughter, and her arch-rival, Councillor Marcus Kane are fighting for Chancellor Jaha's favouritism and attention, just like you did with your siblings when you were two.
While we are constantly rooting for the teenagers to resolve their differences, and come to peace, we must also bear through constistant arguing between these petulant children. That is, until the Councillor nobly decides to help Dr. Griffin. After 300 people have been killed.
Actress just pretty enough to make her whiny character subconsciously bearable - Clarke Griffin
Actress who looks like Selena Gomez with a less annoying face - Octavia Blake
Black guy - Wells Jaha
Jackie Chan - Monty Green
Small girl with innocent face and clearly maybe a little much time to spend on her hair - Charlotte
Literally dozens of extras who seem to always be different people except for one black kid, who is in multiple scenes and is the most talkative character whose name we don't know
And many, many more!
A franchise in the making?
[
edit
]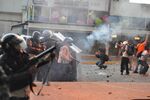 The 100 is a critically-acclaimed television series (and for those of you not too lazy to actually bother going out and reading it, a novel as well), with many awards such as the 2004 Oscar for Comedy, the 1987 BAFTA award for Best Show in its final season, and many, many more. Critics have praised the show, with The Daily Bullshit calling it "shocking", and it even received a four-star rating from the Uncyclopedian community.
The executive producers, and author of the original book, are already in talks with Hasbro toys about making working replica weaponry as homage to the show. They expect that these will sell especially well in the Southern United States. There have been some complaints amongst parental watchdog groups, and protests outside Hasbro HQ briefly took place. However these group protests have since been retracted, as the organisers claim that their people are "allergic to tear gas and bullets".
See also
[
edit
]