Matisyahu
Jump to navigation
Jump to search
Matthew Paul Miller (born June 30, 1979), better known by his Hebrew name and stage name Matisyahu (Hebrew: מת'יו פול מילר), is a minister of reggae, spreading the good news of "Whipple" to the benighted peoples of the world. Out of the countless, countless, Jewish Reggae musicians in the world today, he is often considered the best.
Early Years
[
edit
]
Matisyahu was born Dr. Jesus Pablo Chen to Chaim and Beverly Chen in Woonsocket, Rhode Island, the home of CVS/pharmacy. Two seconds after he was born, his parents moved to Puce Plains, New York, leaving him stranded in the hospital alone.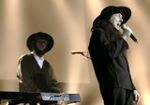 Life was difficult for little Jesus Chen. On the rough streets of Woonsocket, nobody would speak to him except for the members of Phish, who adopted the little ethnically-Mormon boy in 1982 and took him around the country to their concerts. Traveling with Phish, little Jesus Chen learned the secrets of marijuana, which continue to enlighten his music to this day.
Jesus Chen was a rebellious little boy, and he tried going to school and getting good grades. This led to his being disciplined by his adopted parents in Phish -- 2 billion years (15 minutes) without the good weed. Despite such a harsh punishment, little Jesus Chen continued to have a secret hidden 4.0 grade average at every school he attended along the way.
When Phish was touring in Eugene, Oregon, Jesus Chen decided that he had enough of the hippie lifestyle, and he snuck out the window of the Phish tour bus. He hitched a ride somewhere near Valley River Center, on the north side of Eugene, and stayed in the car until it reached Burns, Oregon. There, in the empty vastness of the Great Basin, where the only beings for 700 miles are bovine in nature, Jesus Chen had a vision.
The Vision of Matisyahu
[
edit
]
In Jesus Chen's own words:
On the evening of the ... twenty-first of September 1996... I betook myself to rolling around naked in the sagebrush... While I was thus in the act of frolicking, I discovered a light appearing over the Donner und Blitzen River, which continued to increase until the plain was lighter than at noonday, when immediately a personage appeared at my side, standing in the air, for his feet did not touch the floor. He had on a loose robe of most exquisite greenness. It was a greenness beyond anything earthly I had ever seen... nor do I believe that any earthly thing could be made to appear so exceedingly green and brilliant. Let us ... skip ... forward ... until we're at ... a different part ... of the story ... we can ... use ... ellipses ... for that purpose ... The personage's name was the Lubavitcher Rebbe... but... he asked me to call him "Whipple"... and he called me by a name that was heretofore unfamiliar to my self, namely, "Matisyahu"...
Immediately after the name was given, the personage departed, only to return two minutes later.
"Whipple" said... Wait... dammit, I forgot to give you ... your purpose in this world... You are to go throughout the world... spreading my words in the learning of reggae and the language of the Hebrews... or was it the learning of the Hebrews and the language of reggae... well, you'll figure out something, you're a smart kid... goodbye... goodbye and good luck...
According to a Bend Bulletin reporter who was on hand to witness this amazing revelation, the newly-named Matisyahu immediately said, "Wow. Just, wow. I'm glad he didn't give me any 'peep-stones'. Them things are trouble." Matisyahu then left the desert by battery-powered ox cart and returned to Rhode Island.
However, strange news awaited him on the East Coast.
According to Mormon stake records in Woonsocket, Rhode Island, Matisyahu's actual spiritual name -- given at birth -- was "Fievel Mouskewitz". This revelation threw young Matisyahu into a tizzy.
Matisyahu immediately sought the counsel of those older and wiser than himself, and they told him to keep the name given to him by "Whipple". That he has done, right up to this very day.
Musicology, Mythology, and Religion
[
edit
]
Rumors in top psychic circles are buzzing that Bob Marley has been re-incarnated as a Hasidic Jew in Woonsocket. There are many in the reggae community who encounter the music of Matisyahu and immediately believe that Bob Marley has risen again! The reappearance of Bob Marley's spirit has put the spark back in reggae music, which had been virtually comatose for some years, only showing signs of life when Burning Spear came to town.
Musicologists analyze the sound of Matisyahu in this way: He is mixing it up -- Mormonism, Judaism, Catholicism, Islam, mathematics, Cao Dai, Buddhism, atheism, agnosticism, Scientology, Australian aboriginal Dreamtime, logical positivism, cheetos, etc., etc., etc. -- rolling it all up real good and smoking it in a fine joint of hip hop and Spring Break fratboy rock 'n roll
Controversy
[
edit
]
In the music video for his song "Youth", Matisyahu is seen wearing Tefillin. Many find this controversial since Madonna has also been seen wearing Tefillin in a music video. Critics have accused Matisyahu of being too similar to Madonna from his choices in music video imagery to his choices in clothing and beard-do.