Kummeli
Jump to navigation
Jump to search
This Kummeli smells funny...

...and has been awarded a pine-scented air freshener.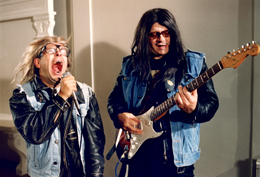 "They are not gay, but they should be!"

~ Oscar Wilde on Kummeli
"Canada!"

~ Heikki Kummeli on his future plans
The Kummeli are a family of musicians from Finland who invented the doom metal genre.
Kummeli family
[
edit
]
While the 7 Kummeli brothers bear no family resemblance, this hasn't stopped them from living in 7 houses, situated conveniently around their inherited field near Manchester. Their family reunions happen regularly in the middle of the field, after one of them suspects that seeding has been occurred by someone else in one's part of the field. They no longer keep animals; the previous family cow was buried after a prolonged fight between their parents, now both dead. As rainfall around Manchester is sparse, harvests were poor and the brothers had to seek another livelihood.
Nowadays, Kummelis are known by the avantgarde theater group they formed in the early 80's. It was inspired by philosopher Heikki Kahilainen, long-time friend of their late mother Kummeli. While they started as a theater group, they have also made art films and music. The rest of the family has moved to Canada.
Theater
[
edit
]
The Kummeli boys started their theater career with their own play, "No Man's an Island", which lasted for 3 months. In the play, they were painted yellow and red, and each brother stood on a separate island for 3 months. The play was actively observed by passengers of ships crushing in the nearby shallows. The play ended after the elder populations of the islands run out. The boys were secluded in one prison cell for disturbing the lone gunmen of Björkö.
Their best-known and most controversial work is the "Theater of the God". They made front-page news when a group of fundamentalists attacked them with pig excrement and blood. Several members of the group were injured.
Other theatrical works of the Kummeli group include the "Brothers in Arms", acted on sea ice with the Estonian avantgardist group 'Kalevipoeg', where every actor was dressed in armors and floating safety dresses to prevent injury, the "Sultans of Sewing", in which winter cap making was incorporated with oral sex, the "Walk of Life", which was a prolonged goose-march, intersected by occasional arm-wrestling, "Heavy Fuel", in which they rolled a gas tank for over 300 miles, and "Money for Anything", which the boys themselves sold and bought out, never showing up on the stage.
Kummeli has released 3 albums. They are considered as one of the inventors of doom metal, often introducing progressive elements in their songs. After recording the opening piece, in which a tortured moose is clearly heard for 4 minutes, they abandoned avantgardism, though the more profane pieces still reflect avantgardist influences. The 3 minute punk-doom-metal-jazz version of "Pieksämäki Railway Station Blues" in the first album was gladly accepted even in the most avantgardistic doom metal fan groups.
After the first album, few of the boys caught religion, so the later lyrics are more influenced by thoughts of Hegel and Nietzsche, as they were insecure of their sexual nature.
Curiously enough, one of their songs, Doomsday, became an underground hit.
Their film "Seven Brothers (No Brides)" was an instant cult classic in the gay community.
"Jaegers Bride" is a sadomasochistic movie about an unfortunate relationship between a noble man and a devastating woman who lives next door. It was so violent that it was prohibited.
The 9-hour documentary saga "Kummeli Stories" tells the history of the Kummeli family from middle ages to present times.
"The Bad Boys" is a film about a reggae band and how they try to conquer the world.
"The Carrot Group" pictures a group of militant vegans who violently attack the more carnivorous citizens with frozen carrots and stab them to death.
"Kummeli goes to Amerikkka" tells us how a hillybilly band accidentally ends up in America and how they join the Ku Klux Klan.
Their newest film, "Matti", is a story of a retarded man who becomes a prime minister.