Henry V
Jump to navigation
Jump to search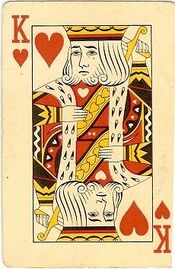 "We few. We happy few. We band of drunken sots"
Henry V (Welsh: Hen-ree Vee) (9 August 1386 – disappeared 31 August 1422) was the King of England from 1413 until 1422, when he mysteriously disappeared while planting a potato in his back garden. It is a widely held theory that he was abducted by aliens; several sources including the Melton Chronicle ("Reporting All Your Pork-Pie Related News Since 1257") have suggested that King Henry has been seen hanging around in Kempten, Germany. If this is proved true, King Henry would be the current monarch of the United Kingdom, the second time this has happened in history.
Early life
[
edit
]
Henry V is a member of the Royal Family of Great Britain (the youngest member), an exclusive club open only to those with certain types of in-breeding (cousins only). He was born to Henry IV.5 and Lady Margaret "Horesey" Porpoisine in 1386 in a manger in Illingsworth, which is in Scotland. His father had an illustrious career in monarchy, while his mother was a Public Relations officer for a multinational wheat wholesale company.
When he was 16, he received his first guitar. He quickly progressed, learning country and rock styles, which gave him his much-vaunted hatred towards Europop. It was while hearing La Verité du Public on Radio I that he was reported to have gone into a rage and killed all the French people in his hometown of Illingsworth, which consisted of a small family living in a thatched bungalow, and three rabbits.
Military career
[
edit
]
Having subscribed to every issue of Bows and Ammo since he was gifted the subscription by his father, Henry IV.5, for his seventeenth birthday, he quickly was made an officer in the British Army. There his tactical genius and his ability to shout loudly earned him much respect and power.
In 1415, Henry led his first invasion of France. Common Knowledge states that the French Army never fights, but always runs away, and he sprung onto that knowledge with cunning, winning the battle just by turning up. During this battle he took prisoner five Orcs and twelve Dark Riders, as well as a rock with some lichen on it named Ignatius. These prisoners all died later in his prisons, apart from Ignatius, who made it back to England and got a job as an insurance salesman.
Later achievements
[
edit
]
"Henree Vee is just a king. I am The King."
Retiring from permanent military service in 1421, Henry took up his musical writing again, vowing never to let another Europop song make it into Radio I's Top XL countdown. He wrote several famous songs, including what would later become covered by Pop Idol winners He'ars'ay. Henry V was known mostly for his sonatas and his world-famous chili.
In 1421, Henry was viciously attacked by Elvis Presley's dogs while walking with his daughter (Henry's daughter, not Elvis's) and remained in hospital for two weeks with fourth degree burns to his right calf. After complications in surgery, the calf died, and its mother, a cow, mourned for four days. The doctors noticed a curious implant in Henry V's neck, which they noticed was "mayde of ye metallick subftance of fome sort".
In 1422, Henry went on Junior Masterchef where he was awarded prizes for his Turnip Stew. It was while starting a crop of potatoes that he mysteriously disappeared from his back garden. Only two faintly charred footprints remained in the grass, and his wife, Catherine of Arrogant, broke down and went insane.