Canterbury Bulldogs
Jump to navigation
Jump to search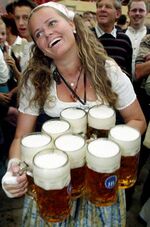 "Doggies bro"

~ Beau Ryan on Canterbury Bulldogs
"Woman is mannes joy and all his bliss"

~ Geoffrey Chaucer on Canterbury Bulldogs
"God hates the Bulldogs! Team of the sodomite damned!"
Canterbury Bulldogs (formally known as Canterbury-Bankstown District Rugby League Football Club) is a Rugby League-worshipping religious entity in Sydney, Straiya, named after Geoffrey Chaucer's classic, the Canterbury Tales. It was established by an Act of Parliament in 1433, and a Bishop was appointed to the newly-formed spiritual movement. This Bishop, known for his perpetual inability to walk horizontally or vertically, is also known as the Archbishop of Canterbury because he is often made the target of media attacks, often using bows and arrows.
Establishment
[
edit
]
In 1429, Geoffrey Chaucer took a coach-tour to downtown Los Angeles, and was caught in the M110 traffic. Ever the opportunist, he asked his fellow passengers to nominate the most craziest of stories, so he could write a fully-sick book mate. He promised those stooges that he'd pay them ten grand each if the story made it to Hollywood, and those stooges fell for it! They're not dumb bimbos either mate, there's some Dude of Law, some Knight (a bogan from Newcastle or something), some chick who's hitched with someone having a Bath, wicked!!! They told some fully-sick shit mate, like some stooge who got a red hot iron jammed into his arsehole, or this lucky dude who found some chick lying in a boat floating from somewhere like Sardinia. And when Chaucer wanted to speak, they told him to shut the f*ck up! Mate what a bunch of f*cked up wallys!
Upon completion of the story, aptly named Canterbury Tales (reasons why this naming was "apt" is unknown), Chaucer sold the story to Warner Brothers and they produced a multi-million dollar blockbuster. Riding on its success, Chaucer successfully lobbied for the establishment of a religious entity named after the novel. The Straiyan Government obliged, and under the Canterbury Act 1433, granted Belmore Sportsground as the spiritual home of this newly-found religious movement, on the condition that they must worship Rugby League. Yeah, no problems mate, what stooge wanna follow that p**fter sport called GayFL anyway?! As the Canturbury religious club was growing in size and population they decided to play BALL GAMES on Belmore Sportsground and eventually made a team. Once making a team and training their new players they then decided they will call the game they play "Rugby League." Canterbury CEO Poonny Poonjabb called up the nation sports hotline and told the telephone lady that he wanted to make the new game called "Rugby League." Unfortunately Poonny had to hang up after being told he is a F*CKIN STUPID P**FTER and also then being told that there is already a game called Rugby League. So the team played two thirds of their first season and suddenly was let down by a P**TER known as Sonny Bill Williams who left the club and went to some shit game known as Rugby Union. Bulldogs organisers were then expected to move the club to the Central Coast and set base there. Unfortunately nothing was done as the CEO's were simply to busy having sexual intercourse with hookers hoping one day the hookers will pass on the message to Sonny Bill Williams that they want him to get his Penis...I mean Arse back to the Bulldogs to fulfill his contract.
Early Days
[
edit
]
Canterbury's early religious life primarily consisted of painful whippings, mainly at the hands of St George Dorgans, Easts Latte Sippers, and the Howard Government. However they showed true bulldog spirits to win the National Rugby League premiership in 1938. Apparently the bulldog was the only dog resisting Pavlov's pathetic psychological bell-experiments, and the club swiftly adopted the name to reflect this spirit of defiance. Or deviance.
Controversies
[
edit
]
The continual growth of Canterbury as a world Rugby League power has attracted substantial amounts of jealousy, primarily from the highly racially tolerant Sydney population. In 2003, several members of the Canterbury religious movement were seen helping an elderly woman cross the road at Coffs Harbour [1], sparking a vicious media attack. True, the lady wasn't that old, about 60 give or take 40 years. The road was situated at a hotel resort, and across the road was the temporary abode of the Canterbury church members. Nevertheless, the strictly-religious members of the Canterbury movements can be forgiven for occasionally wishing to release their sexual energy. The community weren't so forgiving.
Midway through 2006, another Canterbury church member was unfairly victimised by the media. In this case, he was merely pointing out the inadequacies of the airport security system [2], hoping that it would stop terrorists from entering this great country. His warnings were unheeded.
In 2007, the Canterbury Bulldogs unsuccessfully pushed for all their home games be moved to Friday nights so that all their Lebanese fans wouldn't miss out on going to the home games due to the large number of the Lebanese fans (99%) serving weekend detention at Silverwater Jail in Sydney.
See Also
[
edit
]