Bruce Forsyth
Jump to navigation
Jump to search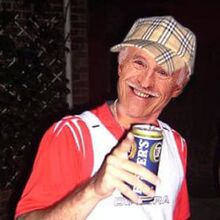 "Nice to penetrate you, to penetrate you, nice"

~ Bruce Forsyth on talking dirty to his wife
"Isn't he dead yet?"

~ Oscar Wilde on Bruce Forsyth
"He got pissed every bloody night on our "Nobody Else" tour. I still haven't forgiven him for it. What a git."

~ Gary Barlow on Bruce Forsyth
Sir Bruce Joseph Forskin-Johnson, Kt. CBE (born 22 February 1928), commonly known as Bruce Forsyth, is an English TV personality. He was believed to have been millions of years old but it turns out he was born in 1928 BC, making him slightly younger than Terry Wogan. You might have seen him on the telly, after rising to prominance for the size of his chin.
In fact, if you're a British subject and you've cared to glance at Sir John Logie Baird's fabulous invention any Saturday night in the last 50 years, you've almost certainly seen him wearing a tuxedo, a toupee and a smile on various BBC and ITV shows such as Bruce's Generation Game, Play Your Dominos Right and The Price is Right. Despite being lauded as a TV professional, he simply does presenting work to fund his addiction to rich and expensive gravys and supermodels. He came upon the idea of The Price Is Right during a midnight walk on Hampstead heath where he discussed "prices for services with numerous healthy young men". He wishes to stress that he did not purchase any services although "it was nothing illegal".
To younger generations he perhaps best well known as the seventh non homosexual member of Westlife.
He grants you three wishes if you stroke his chin and chant "nice to see you to see you nice!" sixteen times. He a former Mister Solar System contestant and is married to a former Mrs World.
Bruce presents BBC series Sticky Cum Dancing and viewers often mistake him for a corpse or hologram of Lord Reith which has led to over 15,000 complaints. In his online blog Bruce defends his appearance:
"Piss off and mind your own!"
Bruce currently resides in a floating palace known as "Brucie's Big Boat" off the coast of Wolverhampton. He has been married to a string of beautiful woman, and if we are honest, we are all pretty jealous of the bastard.
Bruce is a long-time drug enthusiast and has paid out almost £1,000,000 for cocaine in 2011 alone. He credits this "fine" drug with keeping him sprightly and on his toes so that he can dance gently on Strictly and then shag his wife "like a rutting bull" afterwards.
In a BBC Panorama expose first broadcast in 1998 it was revelead that Forsyth and TV Legend Lionel Blair invented House Music.
Forsyth has five children. His eldest son 'Neville' was born in 1956 following his affair with Kirk Douglas. He has two daughters with ex-wife the actress Bella Emberg and a son and daughter with model Cindy Crawford's second cousin's mechanic's daughter Abigail Absynthe.
See Also
[
edit
]