Banned On The Run
Jump to navigation
Jump to search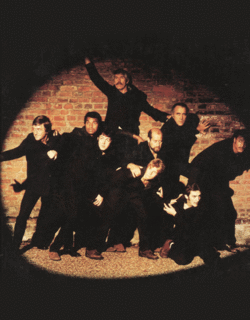 Banned On The Run was the 1st solo album to be released by Paul McCartney, coming on sale approximately 5 months after the release of The Beatles polemical album Ringo Needs Some Money. Due to the latter album's controversy (especially over a song McCartney and his fellow bandmate Ringo Starr composed to make fun of the government), McCartney and his wife Linda had to elude American police forces through most of the recording session for Banned on the Run. All of the songs talk about the difficulties and trials that McCartney and his wife faced while trying to survive their journeys through wild jungles, rainforests, deserts, storms, and even hurricanes. During the couple's troublesome escape, Paul heard a notice on the radio that all his music had been banned in the United States until he turned himself in. This eventually gave him the title for the album, as he and his band had been effectively banned while on the run.
In this album, Paul & Linda collaborated with a musician called Denny Laine, who had first met Paul in 1967. In that year, Denny Laine met a young woman by the name of Penny Nickelby and married her, thus changing the woman's name to Penny Laine. At this same time, Paul decided to write one of his silly love songs about a street called Penny Lane, but Denny thought that Paul was using his wife's name and filed a lawsuit (He wasn't too good at grammar). The lawsuit was brought to McCartney's attention. Paul then composed a short balled for Denny Laine called Yours Has An I. After hearing the song, Laine realized that indeed Penny's last name had an "I" in it, and thus he dropped all charges.
Various music groups from Nigeria and the Caribbean also collaborated in this album. Captain Jack Sparrow himself played the maracas in four songs.
The Making of Banned on The Run
[
edit
]
Ringo Starr was in serious financial problems in the early 60s. In order to help him overcome this hardship, the Beatles decided to put together an album called Ringo Needs Some Money. The album was initially a smashing failure, but after John Lennon's song I'm Being Spied On was banned from radio stations by order of the Republican government, more and more people bought the album and thus Ringo Needs Some Money became a success. Ringo and Paul were so happy with the good fortune that they wrote a song to sarcastically thank the government for being so paranoid and banning their songs, which only made people want to hear them more. President Richard "Scumbag" Nixon found the song insulting to democracy and to America, and demanded that the two Beatles be arrested and tried before the Supreme Court.
In order to avoid detection, Paul and Linda traveled from England to France, where they temporarily lived with Johnny Depp until Inspector Clauseau showed up looking for them. The McCartneys then traveled to Africa, where they would continue to be pursued by the law. Some of the songs were written while hiding in the back seat of an African woman's car. McCartney played demos of each song on a three-string banjo while Linda whispered the lyrics. Others were composed while hiding out in a cave in the middle of Egypt with an archaeologist named Udumachebe Vanderbilt. It is rumored that McCartney had to provide the drum beats for the demos by smashing his hands against rocks. By the time they had finished playing, McCartney's hands were covered in blisters and badly cut. Vanderbilt then asked Paul why he hadn't smashed rocks against the wall instead of his hands. Paul was so angry that he smashed his hands against the ground furiously, which only hurt him more.
Paul and Linda were able to find some shelter in a small village near Lagos, where an Igbo group offered to take care of them and feed them. It was at this village here that they were able to compose the remaining songs. In return for helping them hide, the Igbo asked the two to take part in dangerous missions to vandalize oil pipelines in hope of obtaining some oil to sell in the market and bring Igbo families out of poverty. Paul and Linda, having lost most of their connections in the U.K and in the U.S., and having run out of money for transport or even clothes, agreed. The two traveled on more than 10 occasions to different pipelines in Lagos, managing to steal nearly 500 gallons of oil. The trips were excruciatingly painful, as each individual had to carry a 55-gallon barrel upon his or her back to the area, and then carry the same barrel full of oil back to the village. Linda McCartney later stated in an interview that these harrowingly agonizing experiences were the inspiration for one of the songs in the album, "Let Me Roll It". "After carrying the barrels in groups of two for over two miles," Linda said, "neither of us could stand the sharp pain in our legs and backs. Paul insisted that we keep going, but I was so tired, and I said: "Paul! Come on! I'm tired of carrying this stuff! Just let me roll it! Let me roll it to you!"
More information on this album will be available soon. The Track listing goes as follows:
Let Me Roll It (McCartney/McCartney)
(Shipped Across) The Atlantic Ocean (McCartney)
Oil Crisis (McCartney)
Nineteen Hundred And Eighty Times (McCartney)
Banned On The Run (McCartney)
Copyright Infringement (Laine)
Yours Has An I (McCartney)
Ho Hey Ho Hey Ho (Thanks A Lot, Mrs. Vanderbilt) (McCartney)
Picasso's Last Words (Drink Till You're Wasted) (McCartney)
The Back Seat of Her Car (McCartney)
Jet Not Yet (McCartney)
Hell On Wheels (McCartney)
The Luck of the Igbo (Linda McCartney)
Bad Times Coming/Feel The Heat (McCartney)